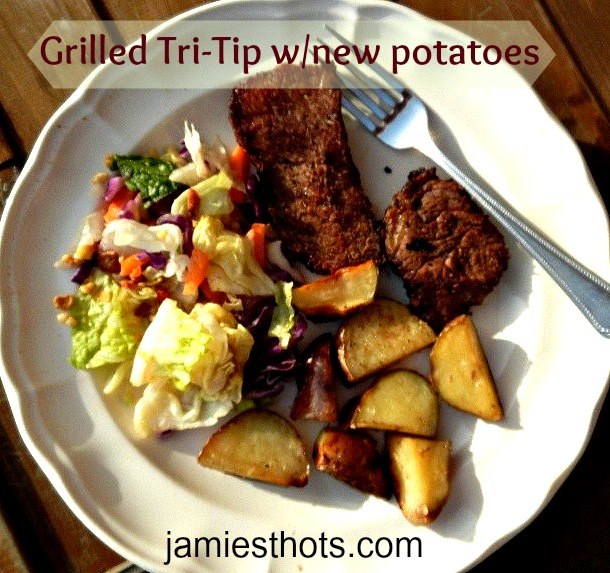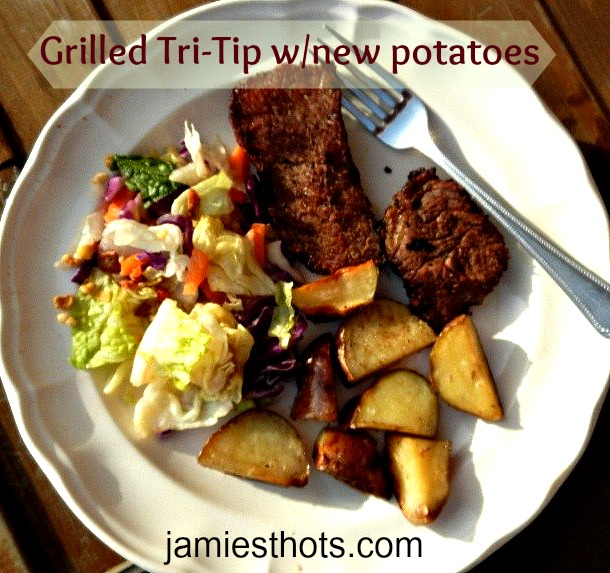 When my husband was a kid growing up in California, it was popular to get a "tri-tip," which is a cut of beef from the bottom sirloin. When he moved away from California, he searched high and low for tri-tip in local grocery stores to no avail.
A few months ago, he happened to be looking through the butcher's section at our local grocery store and discovered they had this cut of meat. I have admit, I was amused at how excited he was! I couldn't figure out if tri-tip was really that great or if he was just being nostalgic. During research on how to best prepare the tri-tip, we learned that the cut is most popular in Central California and in a lot of other places cut or grind up the tri-tip for other uses. It's becoming more common, however, and I've even had several friends from across the country talk about this amazing cut of meat on Facebook.
Here's why I think tri-tip is the perfect meat for all seasons: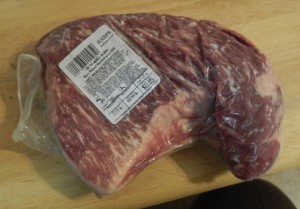 It's relatively inexpensive, given the quality (ours is usually about $3.99 a pound)
It's relatively low fat (not greasy but not dry)
It tastes amazing …moist and rich…no matter how you cook it. Given the choice, I would almost always choose tri-tip over steak
Tri-tip can be baked, roasted, grilled, slow cooked, smoked or braised. That means that no matter what the weather or your cooking skills, you can prepare a tri-tip
We've now fixed tri-tip in a couple of different ways and find all of them delicious. We usually season it the same way but cook it using different methods.
How to prepare a tri-tip for cooking
First, you have to thaw it. I know, that's probably obvious to most of you.
Prepare a rub and coat the tri-tip as evenly as possible (to avoid getting a bite-full of really strong seasoning!
Let the tri-tip soak in the rub for at least a couple of hours or up to a full day (in the fridge of course)
The rub we use is:
2 tablespoons salt
2 tablespoons garlic powder
2 tablespoons black pepper
1 teaspoon dried rosemary
Grilling the tri-tip
Depending on how big the tri-tip is, you might want to quarter it before grilling.
Prepare the grill how you normally would to obtain a medium heat.
Sear all sides (2-4 minutes on each side) and then place on the grill fat side up.
Watch for flash overs (according to my husband that means when the fat drips down and makes the flames woosh up)
Don't let it cook more than 140 degrees in the center and if you want it more rare than that, cook to about 120 degrees in the center. If you want medium-rare try 130 degrees. Do not let it get above 140 or it will be overdone and very tough.
Trim the fat off after grilling (or if you want it leaner, trim it before you start cooking).
Grilled tri-tip is great with new potatoes that have also been grilled. I usually make a "boat" out of several layers of criss-crossed aluminum foil that are rolled up to create sides. Slice or quarter the new potatoes and place them in the aluminum foil "dish." Drizzle EVOO over all of them then use peppercorn medley pepper over the potatoes. Gently toss them to more evenly coat all the pieces. Cover the dish with another layer of aluminum foil. Place on the grill and let them cook. It might be a good idea to gently turn the potatoes throughout the cooking process so they cook evenly.
Roasting the tri-tip
Prep the tri-tip with rub.
Preheat the oven to about 400 degrees.
Place the tri-tip in a roasting pan fat side up (trim some of the fat off).
Place chopped vegetables (new potatoes, sliced carrots and chopped onion) around the roast.
Bake in the oven until it reaches a center temperature of about 120 (rare) to 140 degrees (medium well). Letting your tri-tip get well done will make it way too dry! The fat from the top will help keep the roast moist and the seasonings will permeate the vegetables like a pot roast.
Cooking times will vary based on your oven. Monitor the cooking progress every 20-30 minutes to avoid overcooking the meat.
Finding tri-tip
We usually keep a tri-tip in the freezer so when we get a hankering for it we know there is one available. If you can't find tri-tip in your local grocery store butcher section, ask about it. They might be able to cut it for you. If not, try a specialty butcher shop. I promise it will be worth the slightly higher price you will pay!
Related Posts via Categories