I am a member of the Collective Bias®  Social Fabric® Community.  This shop has been compensated as part of a social shopper amplification for Collective Bias and its advertiser.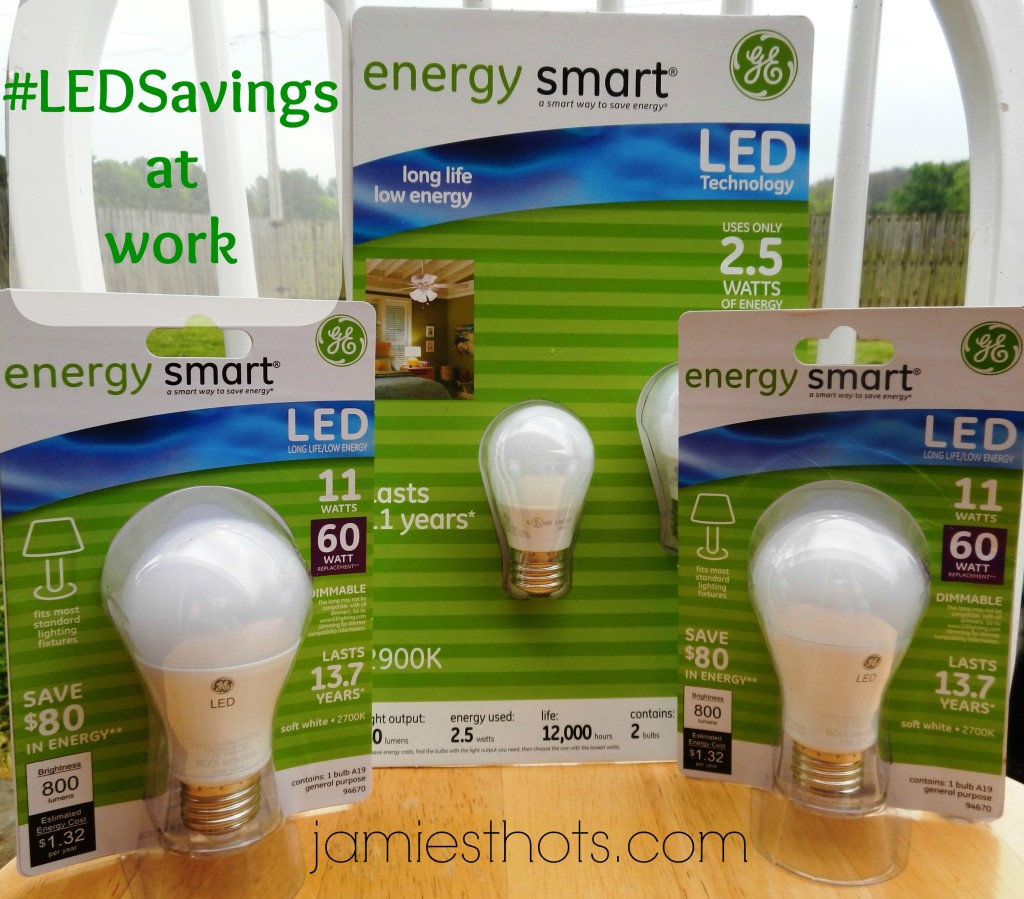 When I heard about the opportunity to try the new super bright LEDs from GE through a shoppertunity with #CollectiveBias, I jumped at the chance. I think it's important to protect creation through conserving resources and let's face it, in this day and age it's important to save money wherever we can. I decided to focus on how #LEDSavings could help improve my work environment but as I started learning more about the LED lighting, I realized it was a good investment for the rest of the house. But don't just listen to me, check out these photos and the results I got from using the energy consumption calculator that shows how LED power made my work station brighter and more cost efficient.
You light up my …. work place
When you're self-employed and work from home, there's really no one else you can blame when the working conditions aren't just exactly how you would prefer them, right? Here's the thing. I have a home office but I also enjoy bringing my laptop into the living room because it's more centrally located.
The problem with that is the living room is poorly lit. We don't have any ceiling light fixture and so we have to rely on floor lamps to light the room (table lamps would just get knocked over by the four fur kids). These floor lamps use CFLs, which we use to save electricity use and costs. But the light quality is just not that great, especially when you consider the CFL light bulbs have to warm up.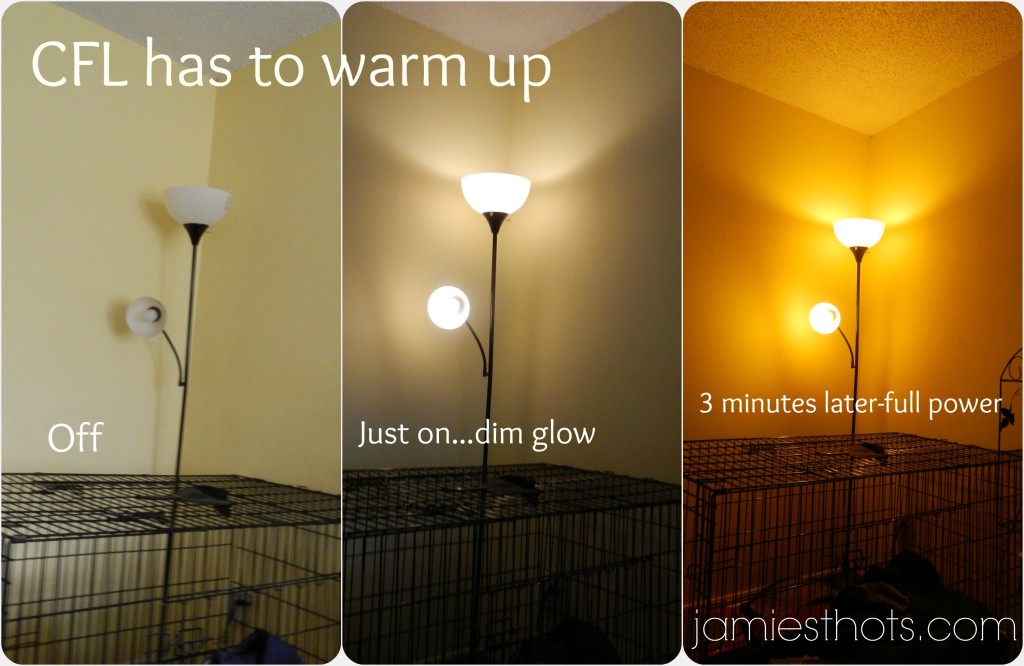 Now look at the progression for how long it took the LED light from GE to warm up.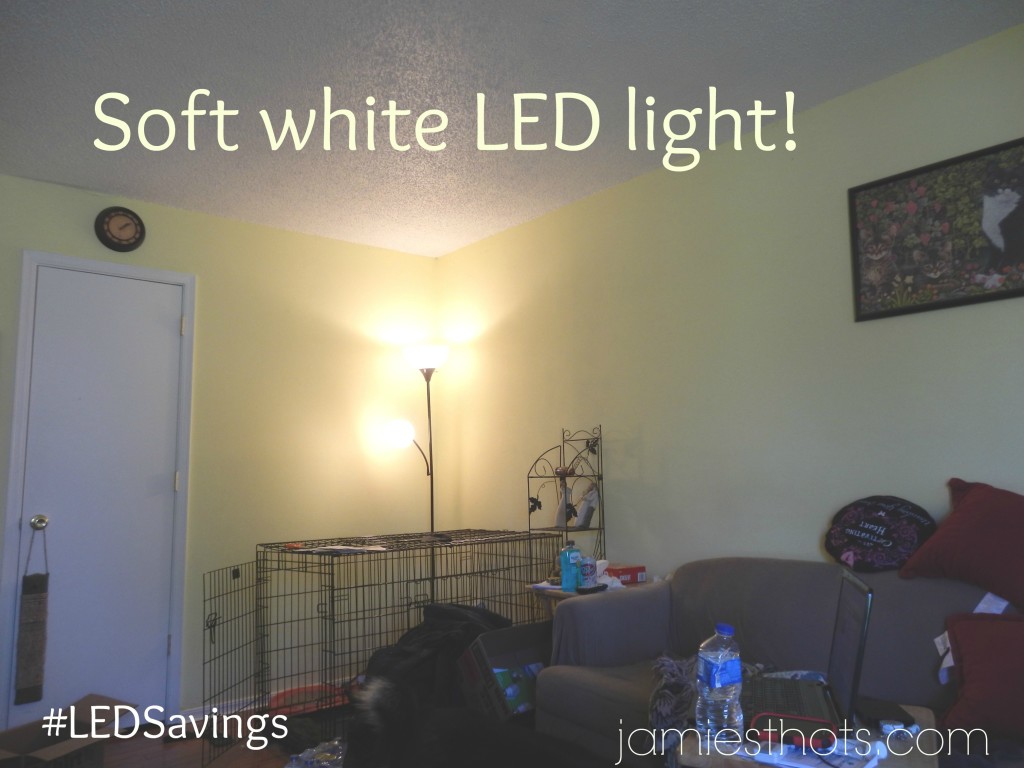 The obvious solution for wanting more light is to get another lamp, right? We have one. But it needs to be rewired. That's why I jumped on this chance for the LED lighting. It's not glamorous but our front room can be messy (notice the dog kennel!) and we don't have time right now to mess with rewiring the lamp. I needed a solution quick and easy. I'm also thrilled with the softer but more intense lighting that the LEDs offer.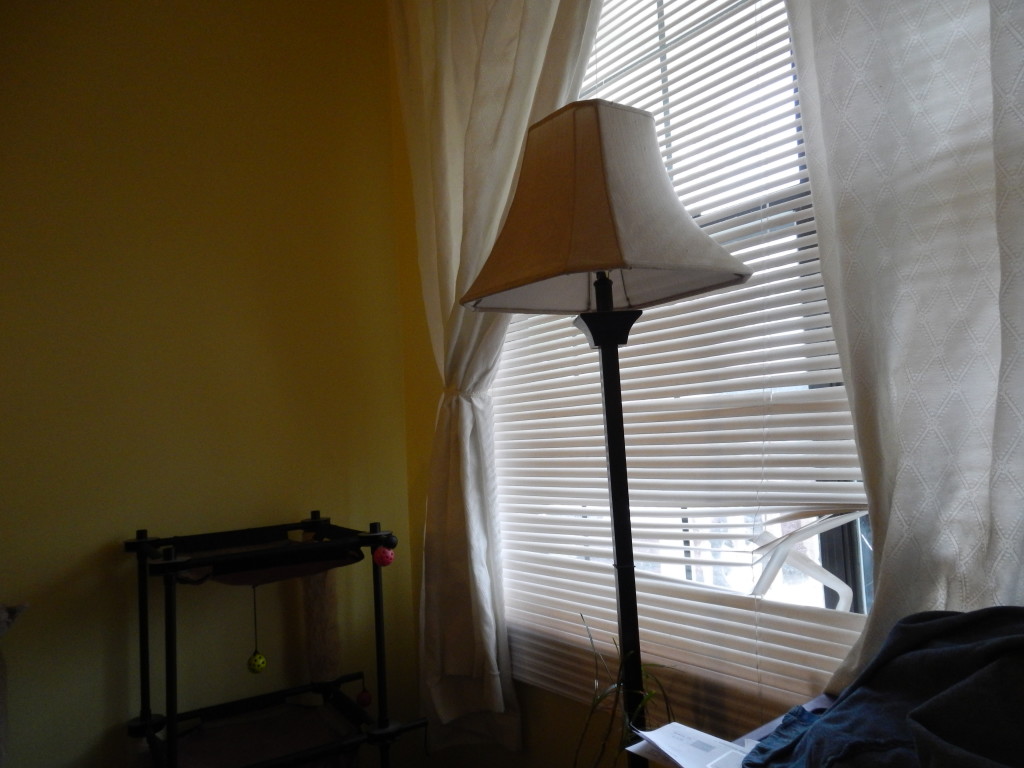 Just to demonstrate the difference, I took "selfies" of myself without any light on yet it was in the middle of the day and I was in front of the big window you see in the above picture. The next selfie is a shot of me looking much happier and less strained on a day when I was able to work with the new lighting in the background.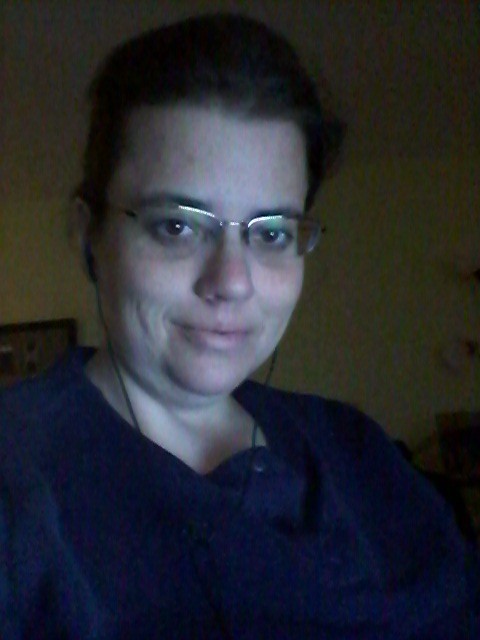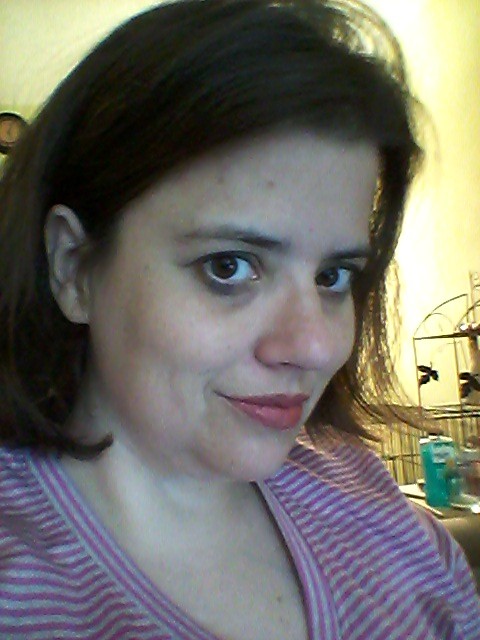 We get it's better light…tell us about these #LEDSavings
OK so enough about me having better light in my workplace. Most people probably just buy another lamp, right? There's another reason that I like these new LED lights. Not only are they better and more effective lighting, they are more efficient. You can learn more about new LED lighting on the GE website but here are a few highlights that mean the most to me:
No mercury, lead or glass which makes them easier and safer to handle and dispose of in a few years when they go out.
They are more visually attractive than CFLs. I've always thought the weird spirally lightbulbs were ugly. The new LEDs are "normal" looking.
They are dimmable if you have that kind of lamp and they have an almost instantaneous turn-on time.
They save up to 90 percent compared to the "old" (incandescent) lightbulbs.
With them not using as much juice to operate, the LEDs are designed to last a really long time. This means less long-term costs and less worry of "is the light going to go out when I'm alone and can't change it myself?" (I'm a full-time wheelchair user so I always have to have help changing 90 percent of our bulbs around here.)
There's something you should be prepared for if you head out to Sam's Club to buy these in bulk like I did. The bulbs are such advanced, energy saving technology that they cost about $10 each (but until May 1 you can print this coupon). But don't let that deter you. After I used the GE Energy Savings calculator, I realized that there really is a long-term savings (and did I mention better light? ..OK, I'll stop).
Check out my personal example. I counted and I have about 17 "slots" where a lightbulb could go. If I were switching out all the lightbulbs at once, that would cost me about $170 at Sam's Club. But get this, according to the energy savings calculator I'm saving nearly $197 every year by using the LED lights.
The GE Energy Smart LED lights are easy to find in Sam's Club. Just go to the home decor department and look for the lamps. The lightbulbs are in the middle of the aisle. They have lots of options for LED lights and information on what they can do for you.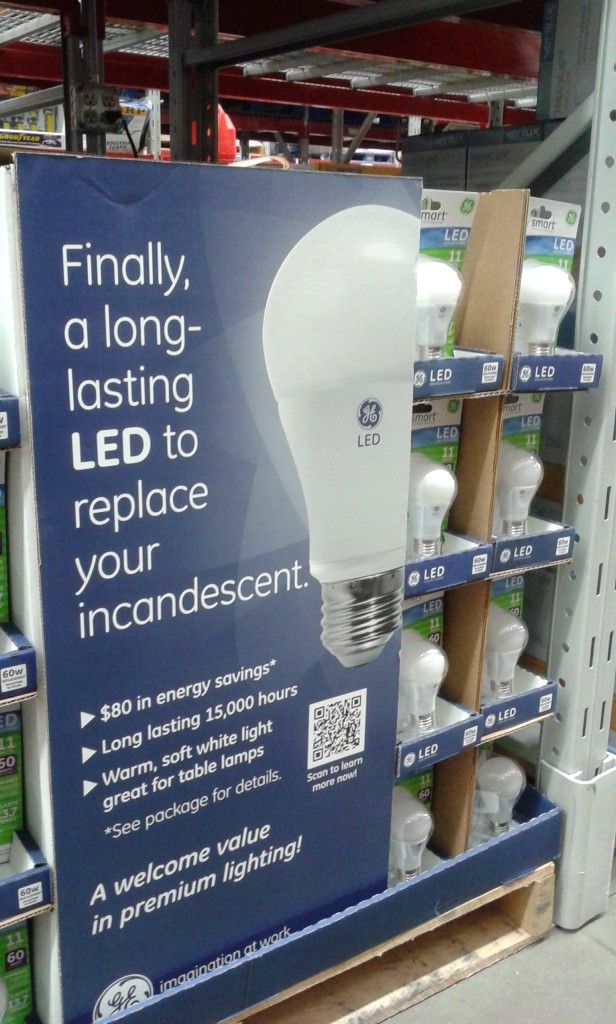 How do you feel about the lighting in your home or office (or home office?) Is it adequate? Are you paying an arm and a leg each month in utility bills? Now is the perfect time to consider switching to LED lighting.
Want to learn more about energy efficiency? Follow GE on its various channels:
Related Posts via Categories