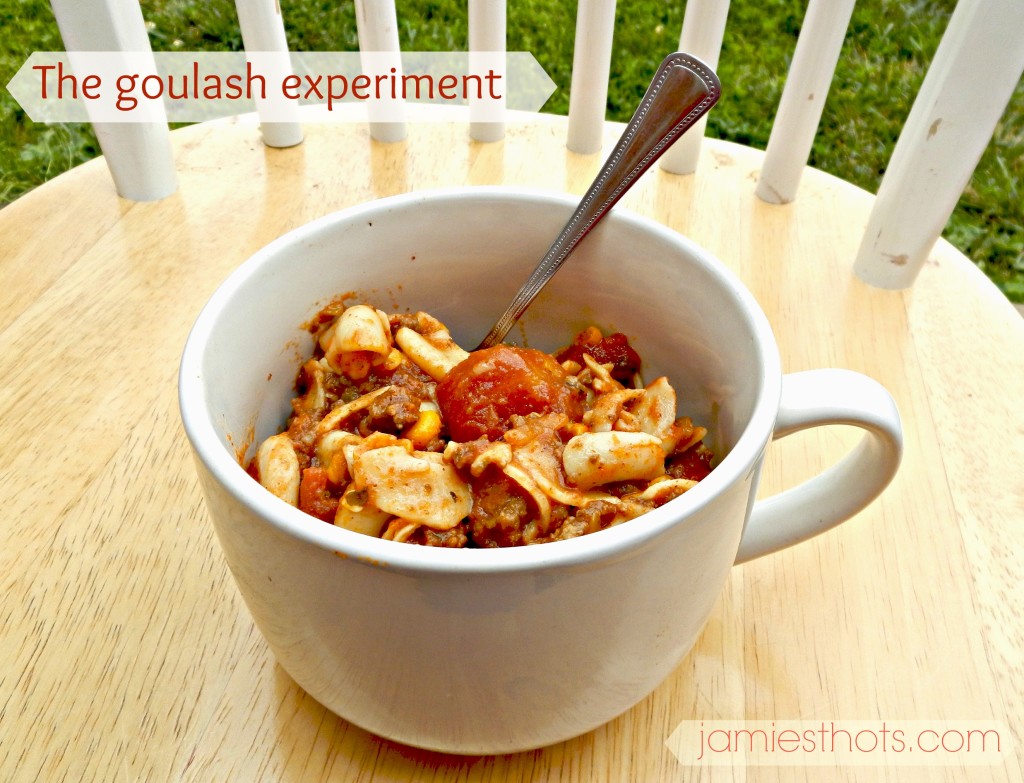 A week or so ago, we tried the goulash at one of our favorite restaurants, a diner called Lucy's Diner. It was divine and we decided to make trying to replicate Lucy's goulash recipe as our next recipe project. We failed to replicate the recipe but what we made was distinct in its own way that we will evolve until we get it just right.
So why share this on my blog before it's perfect? First of all, just because it's not perfect yet for us doesn't mean it won't spark some ideas for my brilliant readers. Also, I believe we're all a work in progress and I promised myself I would not wait until life is perfect to post on my blog. That should go for recipes too, I figure.
Some of the choices we made were based on food we already had and I will make note of that in the recipe as well as what we believe didn't work for us. 
Goulash recipe ingredients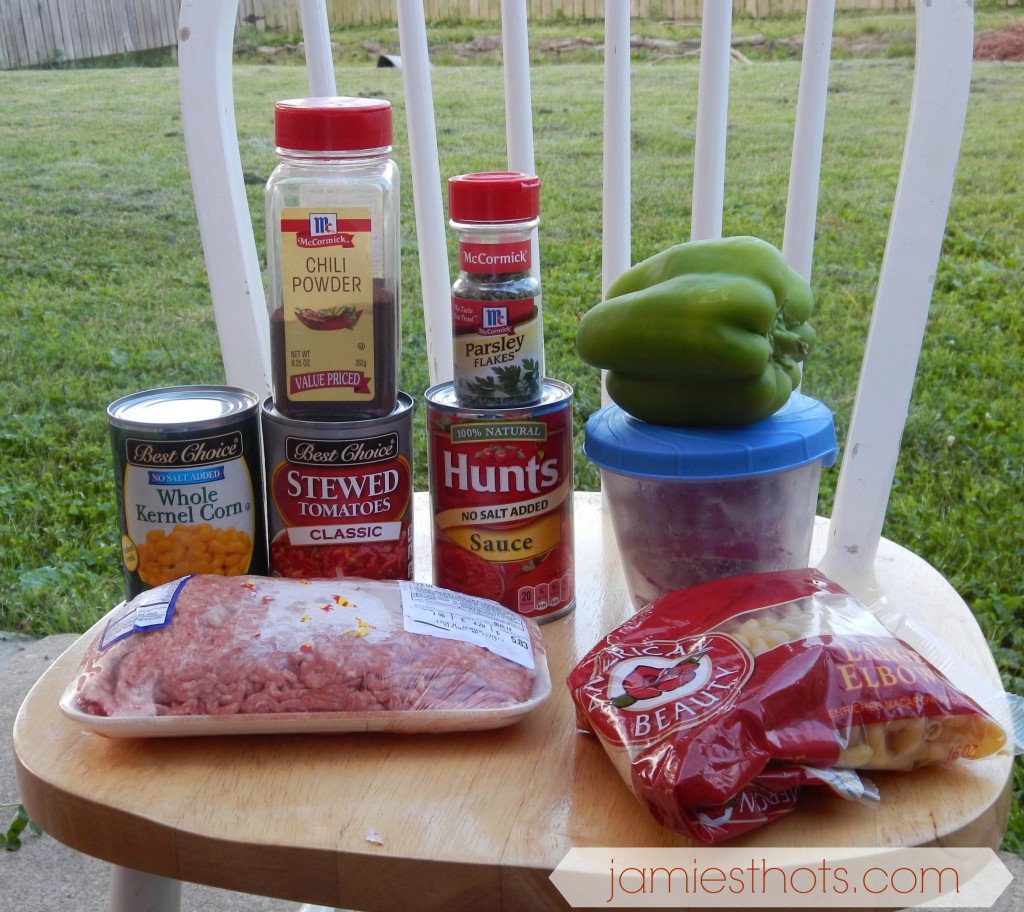 1-1.5 pounds of ground beef (we prefer 80/20. We used 1.33 pounds and it wasn't enough for my tastes.)
1 can of stewed tomatoes (the chunk kind, not the whole kind)
2-4 cloves of garlic, crushed or the equivalent in garlic powder (we used the powder and it was just fine)
1-2 tablespoons of chili powder (you could also probably use a half packet of chili seasoning)
1/2 of a medium onion (we used almost a whole red onion which made it too sweet and the onion flavor too strong. I might be willing to try red onion again if it was a smaller amount)
8-10 ounces of elbow or shell macaroni (we used a full pound of the large elbows and it was too much)
15 ounce can of tomato sauce (we got the other ingredients out of kilter so we added a small can of more tomato paste)
1-2 teaspoons of dried parsley
Can of sweet corn
Chopped green pepper (we used one small one, it was not enough. A large pepper would have been better)
Shredded sharp cheddar cheese to taste (optional…great for if it doesn't come out quite right or you have someone who may not like the amount of chili powder you used)
Making the goulash
Brown the meat, adding the chopped onion and bell pepper, the garlic, parsley, the chili seasoning halfway through. Drain the grease off when it's fully browned.
Cook the pasta according to instructions until it's al dente (Al dente means still slightly chewy. I cooked it completely and it got mushy in later stages).
Combine the meat/veggie mixture with the pasta in a large pot (we had to use a slow cooker) and add the corn, tomatoes and tomato sauce. Do not drain any of the cans before adding their contents. We still had to add a little bit of water to get everything to mix right.
By this time you have a big bunch of goulash! It all needs to simmer a bit together for at least 30 minutes to an hour, I would guess (we did longer on low in the slow cooker). Quite frankly, it was much better the next day.
Serve with shredded cheese as an individual option.
So what do you put in your goulash? What would you change about this goulash recipe? Leave your thots in the comments.
Related Posts via Categories