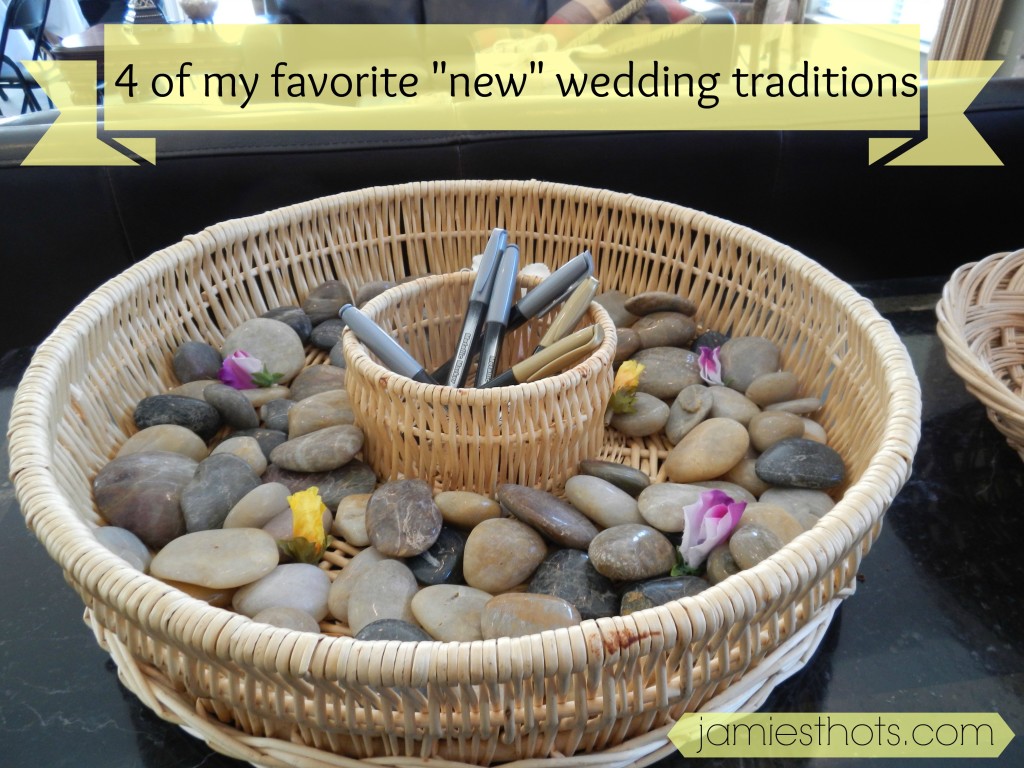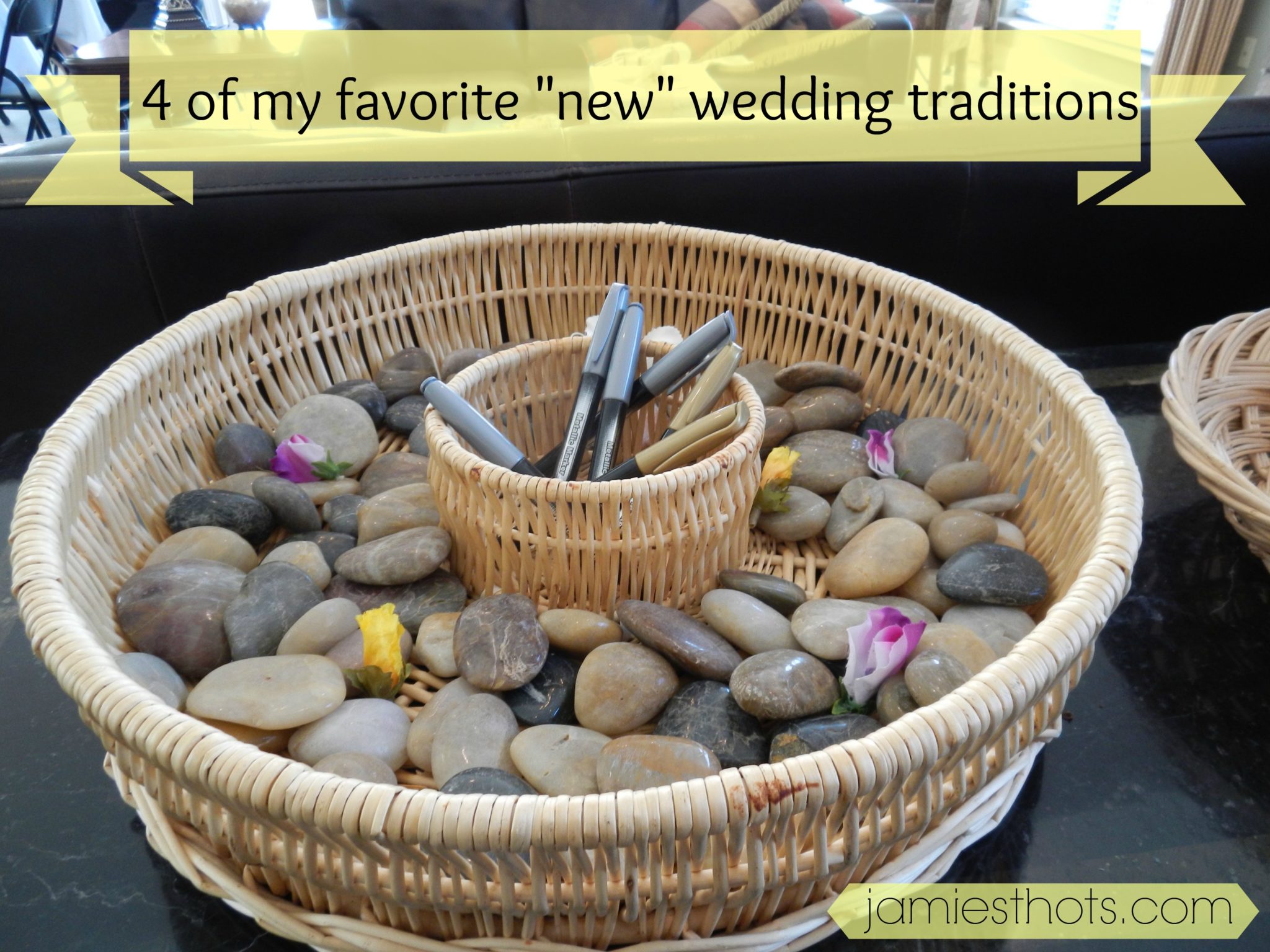 We've all been to weddings where all the conventional traditions were followed. Sure, they have meaning but there's also a point where weddings can get too scripted and less individualized to emphasize the couple getting married.
Traditions have a place, a purpose. But they also should have meaning. If the tradition doesn't have meaning for you or doesn't represent you, why do it? It seems like a wedding is the perfect place to celebrate who you are as a couple, to acknowledge your unique situation.
I've seen (or done myself) four "new" traditions that I think are a great idea for weddings. I don't have personal photos for all of them, but I think you will get the idea.
Guests signing rocks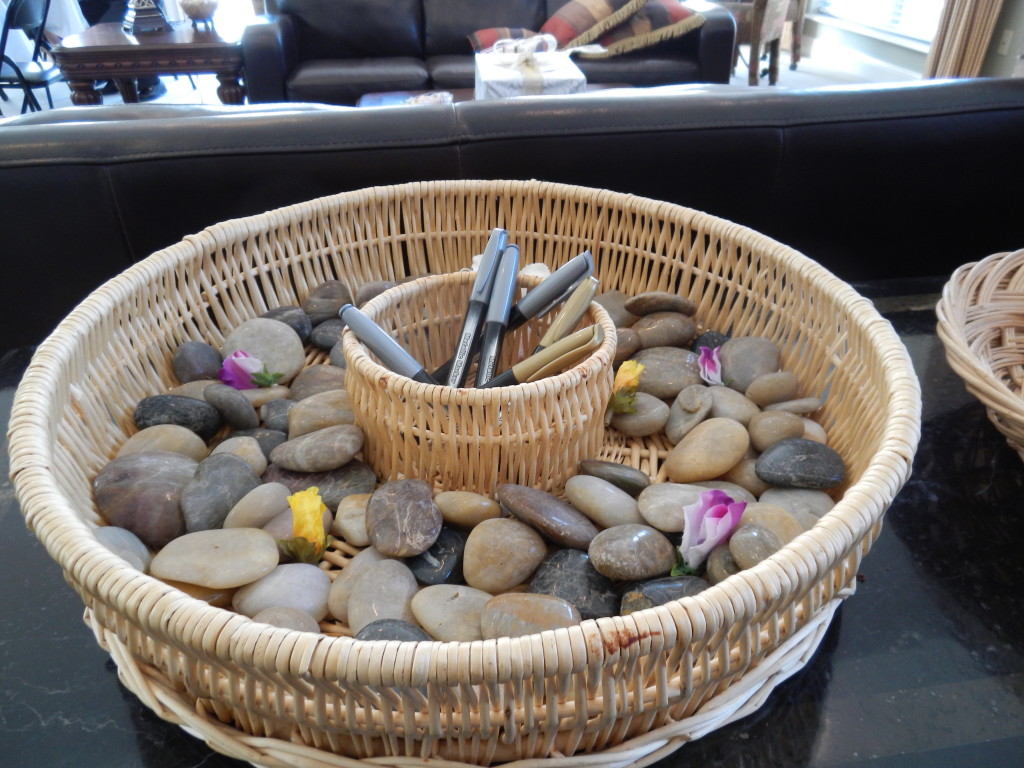 Some friends of ours got married recently and they did the neatest thing at their reception. I think they still had the traditional guest book but the rocks were really cool. The basket of native stones were accompanied by different colored Sharpie pens. We were asked to write our name on a rock and place them in another basket. They would then be put in a jar or other container and displayed in the family's home. This way they had a personalized, decorative record of each person at their wedding. Displaying a guest book feels a little outdated a month after the wedding, right? The natural stones are a beautiful and memorable way to remember who was at the wedding.
Personalized wedding hashtags
For those not "in the know" about social media, you can use the pound sign (hashtag) to connect items on social media that are in the same topic. For example, we could have done #JJSmithWedding at our wedding and all pictures shared on social media using that hashtag could be found, and later downloaded, together. Hashtags weren't a huge "thing" almost six years ago so we didn't do this. But anyways, it's silly to assume that no one at your wedding will be whipping out their smartphone so you might as well simplify and unify the efforts. It's a lot easier than offering disposable cameras at each reception table then paying to develop the film!
Sand ceremony 
The sand ceremonies don't produce images as elaborate as above but they are still really pretty. The sand ceremony can be done with just the couple, but is especially meaningful when there's children from previous relationships involved. The sand ceremony is done often in place of lighting the unity candle and the resulting jar of colored sand is usually displayed in the couple's home after they get married.
How do you do it? Each person gets to choose their own color of sand that represents them. Each person in the couple and if applicable, the children all contribute. As the officiant shares the meaning and perhaps prays over the tradition, each participant takes turns pouring parts of their sand into the vase or open-mouth jar.
Signing the marriage license during the ceremony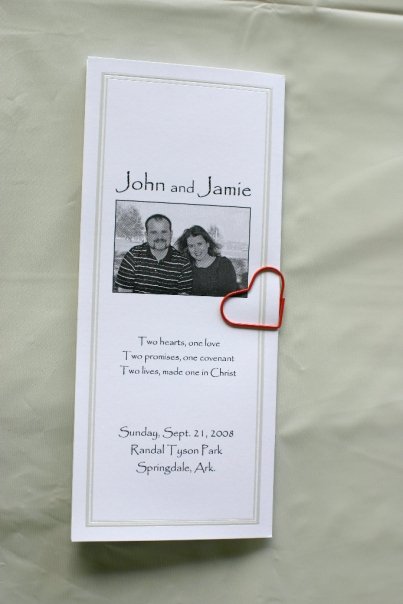 This is one that I've never seen except for the fact that we did it during our wedding! So, you know that moment in the wedding when the special music is playing and the couple getting married just kind of look into each other's eyes and try not to laugh? No offense, but it's just awkward. I also believe that the marriage license kind of gets shafted a lot of times. I mean, it's the document that seals the deal so to speak and how many times is it just signed super quick to get it over with?
We had what is called a Covenant Marriage (a marriage that has more legally binding requirements put in place than a traditional marriage license). It was very important to us to talk about the covenant and the "extra binding" commitment we were making to each other. We made signing the license as part of our ceremony. It helped emphasize what we wanted to and it also saved us from that awkward staring at each other.
So what wedding traditions have you seen that you just love? Leave your thots in the comments!