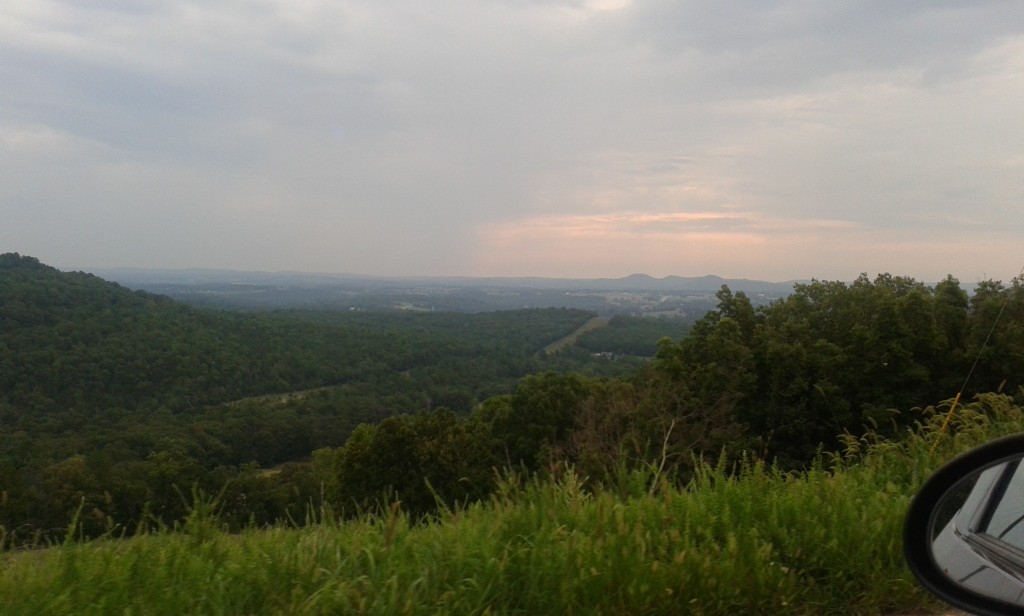 I used to believe that "sabbath" meant a specific day and that you didn't work unless you absolutely had to and it always involved some kind of churchy activity. It was the day you made sure everyone new you were church folk. After attending a seminar by my friend Cari Kaufman a few years ago, I feel I have a better understanding of what sabbath means.
It means rest. It doesn't mean take time to make sure everyone knows you're spiritual. It doesn't make a specific day of the week more sacred than the other (after all, aren't we to worship God every day? That part always puzzled me.). Keeping the sabbath holy means to make sure to give yourself time to rest, reflect and rejuvenate. It means making time to refresh and refill yourself and your relationship with our creator.
Our sabbath weekend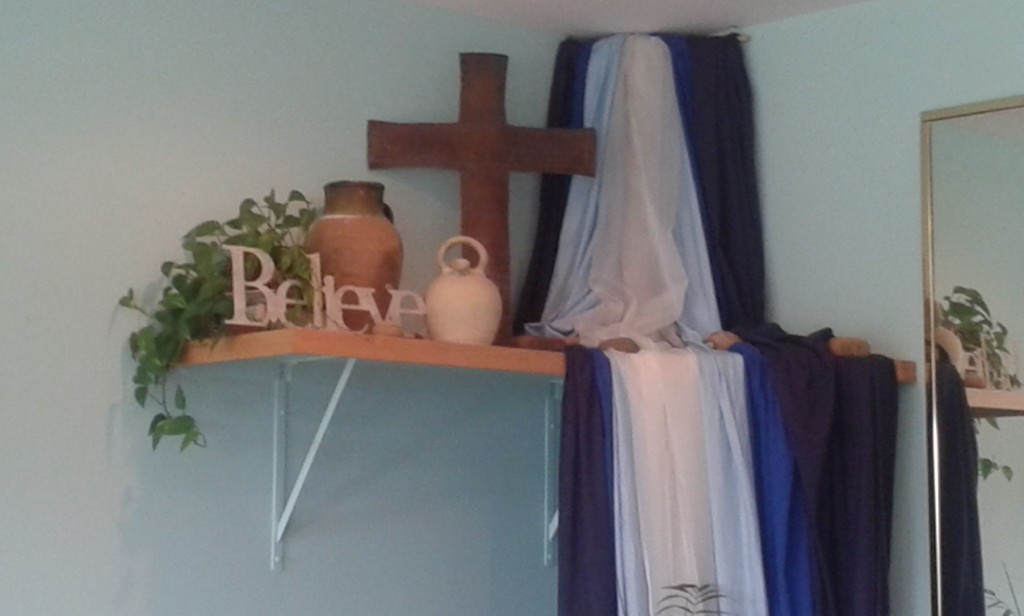 I'm the first to admit I'm not really that great about taking sabbath time. I feel pressure to make sure I run my business, keep my animals alive and to do a myriad of other things I've convinced myself are necessary. When I do get brief respite, I realize how valuable it is to my mind, body and soul.
This weekend John and I got away for what I consider a "sabbath" weekend, which involved spending a couple days in Eureka Springs. He's worked 8-10 hours of overtime each week for a couple months and I've been under a lot of stress lately, too.
The weekend started with the whole idea that I needed to be in Eureka for a day-long leadership committee retreat for the Captivating Heart Retreat team. I didn't really want to drive all the way there and be there at 9 a.m. so I told John I might go the Friday night before to spend the night. He said he would take Friday off from work and we would make a weekend of it. He would spend the Saturday while I was at the retreat enjoying time alone watching cable TV.
Oddly enough, I got sick during the weekend and felt icky but still felt like my spirit was renewed. Both in time of worshipping with my Captivating Heart sisters and spending down time with my husband. Seriously, all we did was hang out at the hotel and go to one or two stores and out to eat. I never plugged in my work hard drive and only answered one or two work emails simply so I could let them know I would get back to them when I was back.
I didn't get a lot of photos this trip and even that felt good. I had to snap a few that captured my attention along the trip (using my cell phone, hence the less than stellar quality).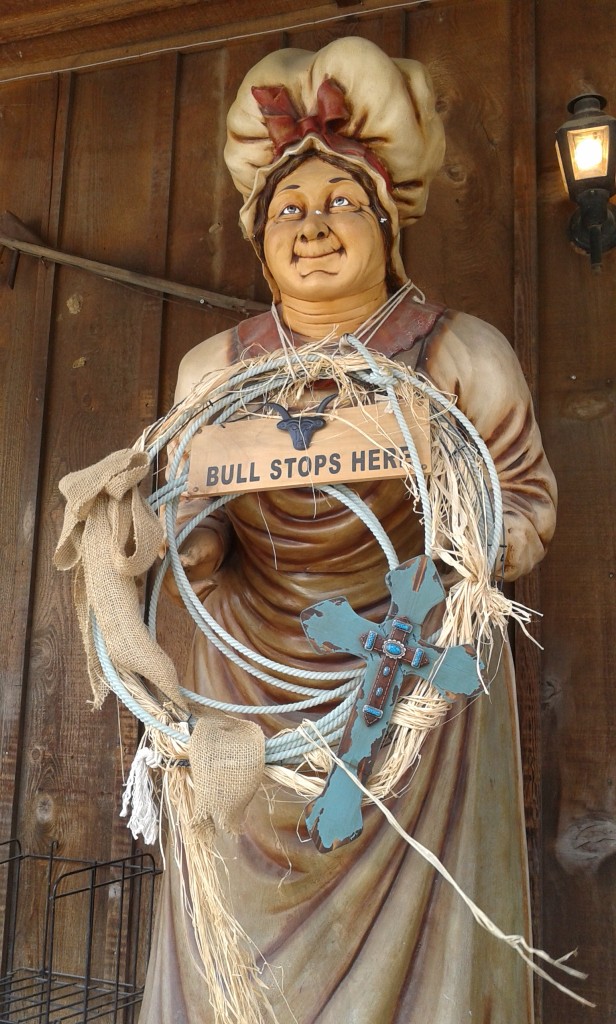 I can't believe I never got any pictures of the Regency Inn in Eureka but we will definitely be back. Truth be told, we don't go to Eureka that much because pretty much the whole town is very wheelchair inaccessible. Even most the hotels don't have an accessible room and in many cases, their version of "accessible" is just … not. The Regency not only had a great accessible room, it was clean, easy to get to and the owners were a delight. I can't recommend it highly enough.
Saturday morning I got up bright and early to head to Christview Ministries for the Captivating Heart leadership retreat.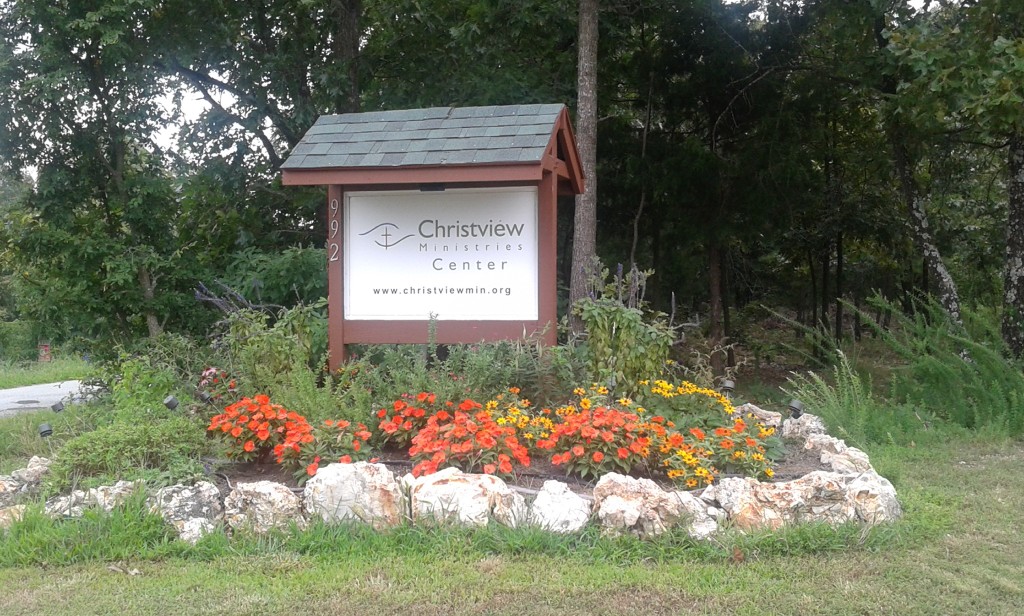 That first picture I shared was the valley as I was driving there (I stopped…was not driving and picture taking). Here's another view from the window of Christview later that afternoon.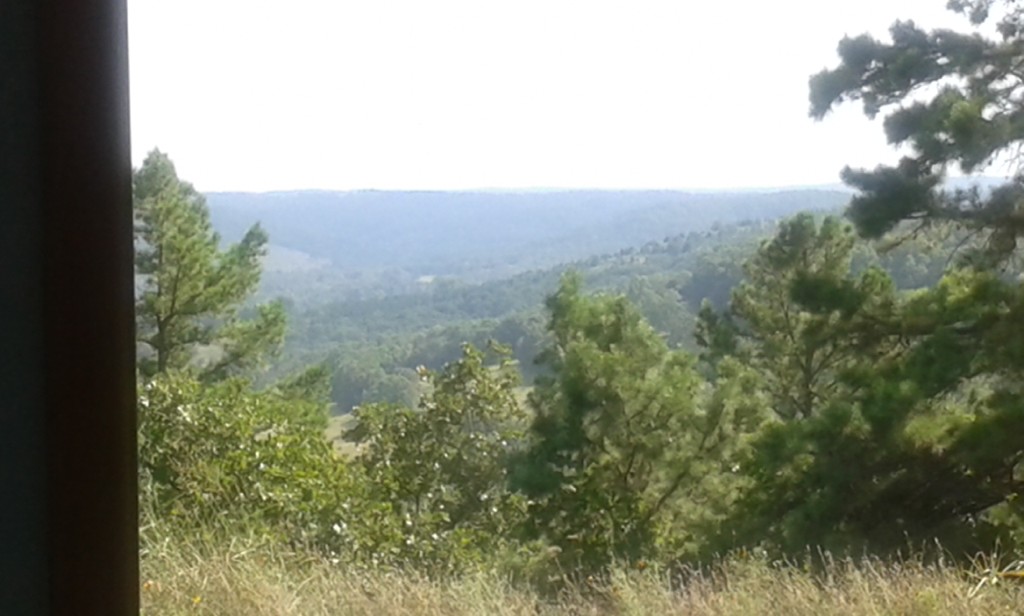 The retreat was just what my soul needed. I was in a place with people where I felt free to worship God in a way that fits me, not what church society says I should be doing. We also spent time going over every part of the schedule for the three-day retreat and made plans to promote it as much as possible. By the way, you don't have to live in Arkansas, Missouri or Oklahoma to come to this. Those are just the closest states. Please come!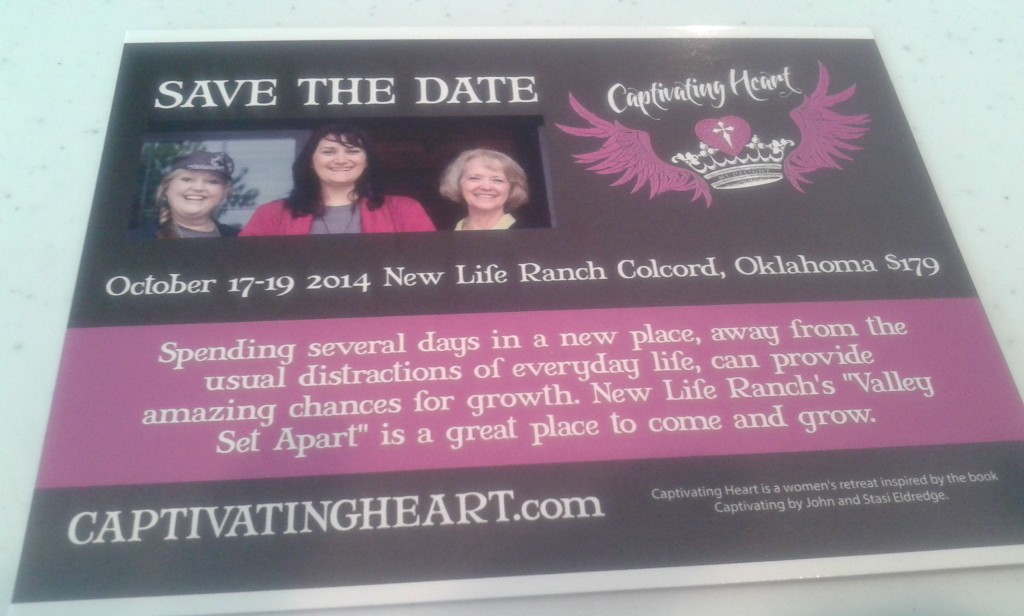 After the retreat John and I went to a new-to-us restaurant called Mei Li Asian Cuisine. It was not as accessible as we were told over the phone so we ended up eating on the patio. That ended up making the entire experience delightful! I failed to get a picture of the sign but I linked to their Urbanspoon.
I was still feeling sick from earlier so we just went back to the hotel and enjoyed watching Animal Planet marathons all night! We don't have cable and the only channel we truly miss is Animal Planet. I love that I'm married to a man who loves to watch hours of television programming that is nothing but cute animals.
The next morning we were ready to check out and had plans to go to another favorite Eureka Springs restaurant Rowdy Beaver. Not to sound like a broken record, but instead, neither one of us was feeling all that great and it just sounded too heavy so we went to our most favorite Eureka Springs shop and then headed home.
As we got closer to home, we were feeling better enough and hungry enough to eat. On our way to Eureka (we took a different route than normal because we had to drop the dogs off to Dogwatch Doggie Daycare and Boarding), we had noticed a cafe in a tiny town called Goshen that sounded interesting. We stopped there and will definitely be back at some point! It's only about 20 minutes or so from our house and would be a nice Sunday afternoon getaway.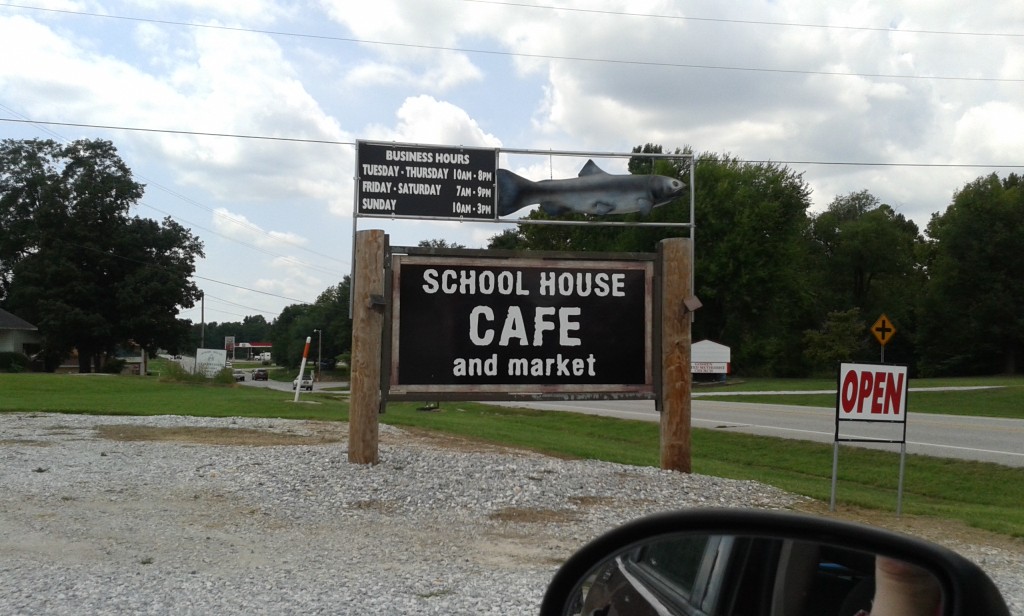 When we got home and got our cats fed and the dogs picked up (they got baths at Dogwatch! More rest for us!), we realized we were both still very, very tired. Our spirits were full but our bodies were not (both of us were up sick a lot the night before). We decided to take a nap and we both woke up feeling a lot better.
Related Posts via Categories