I was compensated with a gift certificate and a free copy of this book from Family Christian for this review. All opinions, photos and experiences are my own.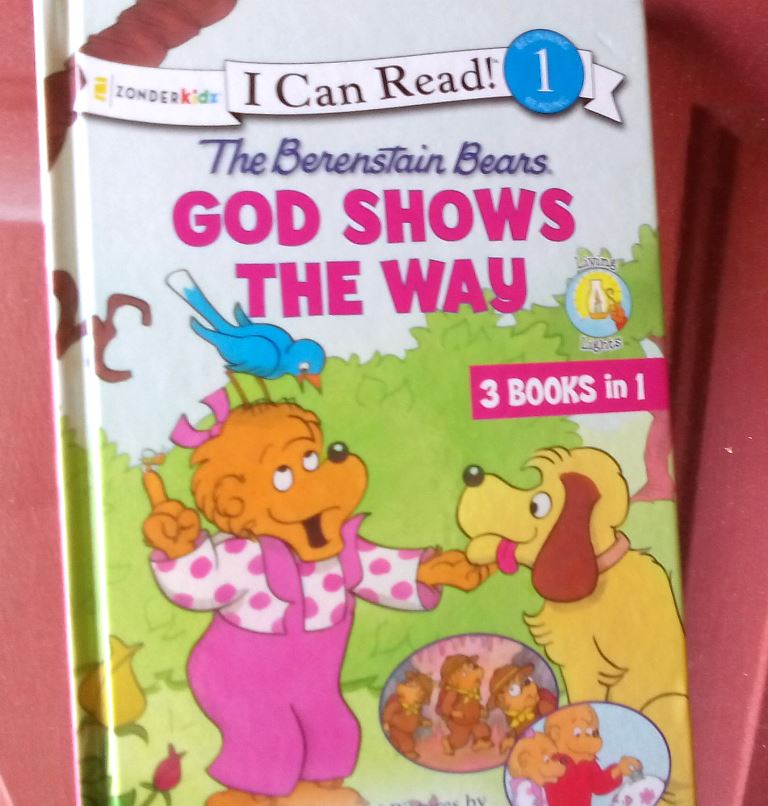 The Berenstain Bears family has been delighting children for five decades, myself included. I loved the stories that had a strong moral message that taught kids how to treat each other nicely, how to save money, and how to not be afraid…and so much more. These books help kids better understand and deal with experiences many kids share.
A new faith-based twist to a family classic
In the book God Shows the Way, the Berenstain family story takes on a new twist. This book, which can be purchased on the Family Christian website, is actually three books in one.
Unlike many Berenstain Bear books that are soft cover, this three-in-one is a hardback book that children can cherish forever.  These books are deemed "I Can Read Level 1", which means it is for shared reading with an emergent reader.
So what's the new twist? Instead of being books that are simply about being good, the three books found in this collection are part of the new Living Lights mini-series that have an overtly Christian message.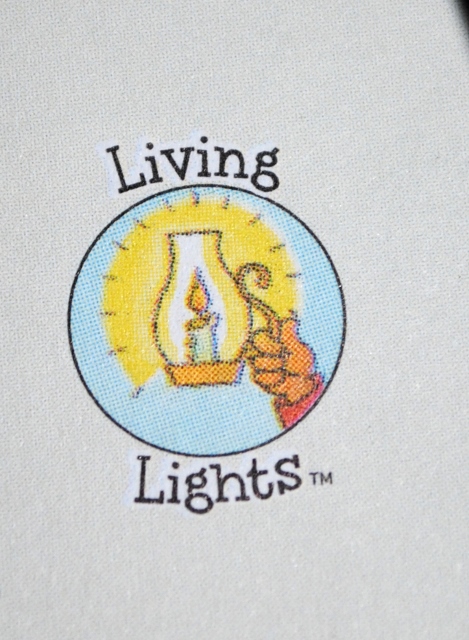 According to this article from Christian Post, the Berenstain Bears founders were Stan and Jan Berenstain. Their son, Mike Berenstain, took over the Berenstain legacy. Mike became a Christian and wanted to find a way to share his new faith with his readers. The Living Lights series is specially written and drawn for the publisher Zondervan.
I will admit, at first I was a little skeptical but I believe Mr. Berenstain found a way to share a faith-based message and not lose the Berenstain charm. I was skeptical because when I first flipped through the book the Biblical references felt a little forced and as someone who loved the original series, I was a little sad to see the change.
As I read through each of the three stories, however, I realized that while some of the references might be a little awkward in places, the books held true to the Berenstain brand. Each book is introduced with the title page that is found in the original books (also available on the Family Christian site) and on the opposing page there is a Scripture reference that introduces the general idea behind the book.
All three books fit into the idea of "God showing the way" in whatever the given plot scenario. I liked how the parents were still strong characters throughout each book instead of just saying "if you are good with God all will be OK."
The three Berenstain Bears books in this set
Here's a quick look at the three books in this group:
Faith Gets Us Through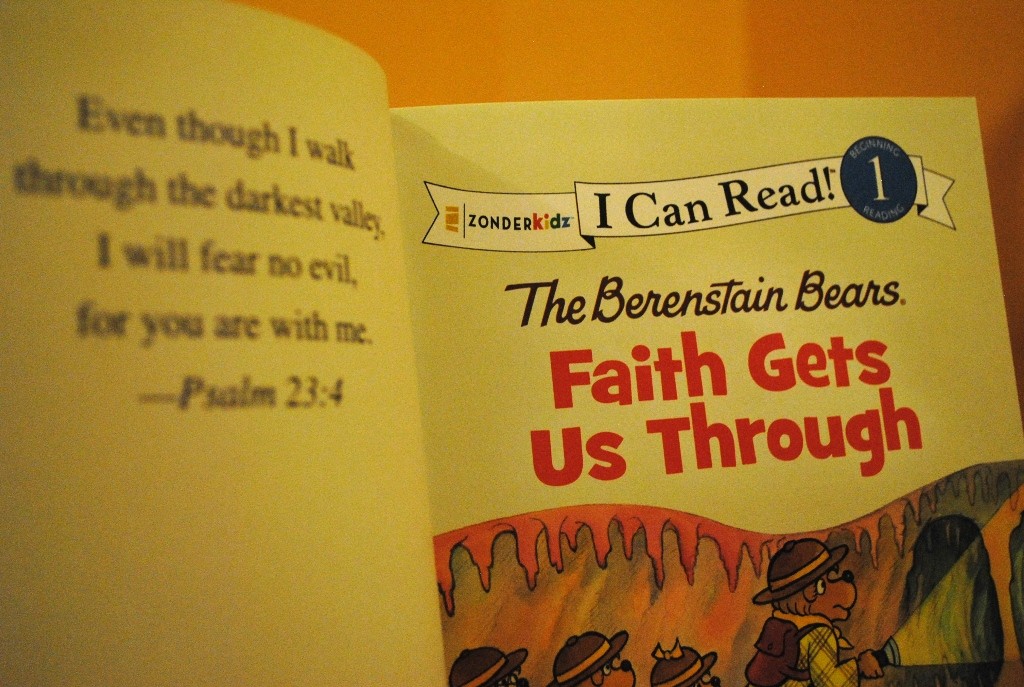 Faith Gets Us Through takes us on a scouting trip with the oldest child. They go in a cave and get lost and of course are scared. They are led by the dad who teaches them to trust God to get them out of the cave.
Not to spoil things but they do get out of the cave and God is praised for creating circumstances that made it possible. I thought it was also interesting that while they acknowledged that God helped them, the Bears agreed that putting themselves back in that scary position was not wise. I think that's a good lesson to teach kids!
Do Not Fear, God Is Near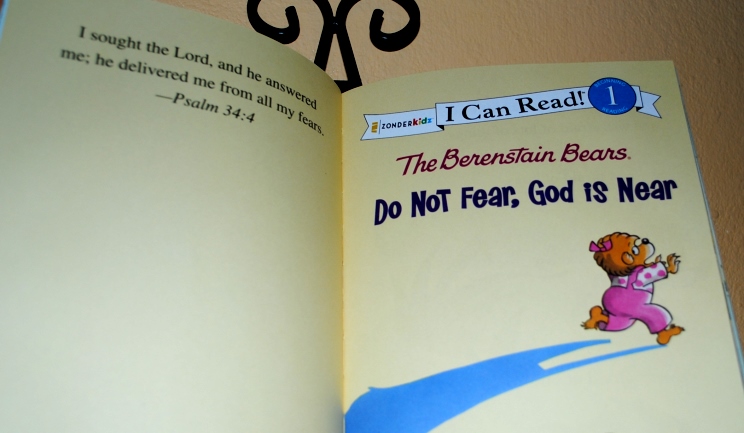 In this book, Sister Bear is scared of many things but her parents encourage her to remember that God will protect her. It also showed how, when she got scared, she knew she could get help from her parents.
I have to admit, I chuckled at the end when the Sister Bear played a prank on her brother after he had teased her for being scared!
Piggy Bank Blessings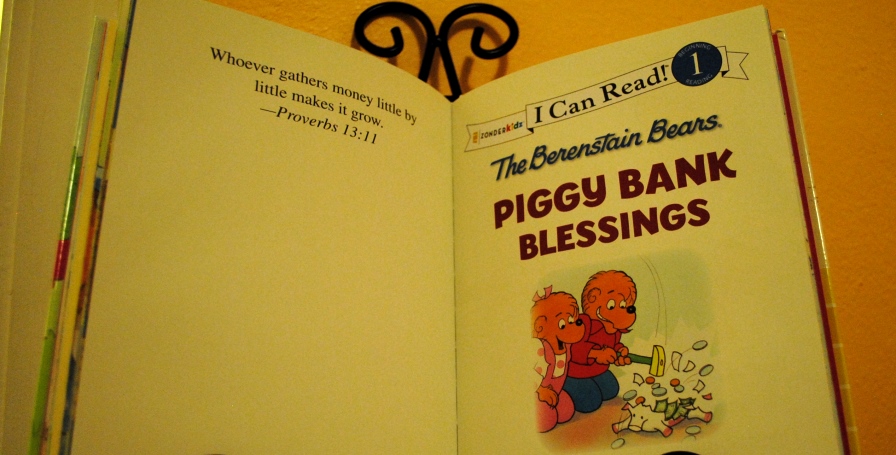 Saving money is a good thing and the Brother Bear and Sister Bear learn this. They also learn about how it's important to only spend money on wise things. This book teaches about how we can't always have what we want when we want it, how to earn and save money, and how it can make people feel good when you spend that money wisely.
A Family Christian giveaway
I'm giving away a $10 certificate to Family Christian. It's easy to enter. You can earn entry points by completing tasks outlined below. For each point, you will get an entry into the raffle.
Related Posts via Categories