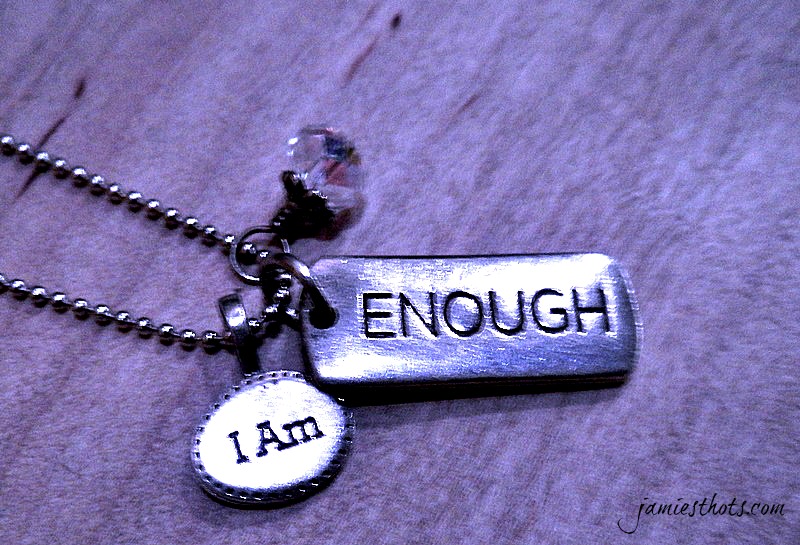 A couple of years ago, I delved into the idea of choosing "One Word" to represent my year. I chose the word "enough" and I set out to explore the idea of being "enough" in my various life roles. What I did was choose roles where I felt insecure or otherwise had the idea in my head that I wasn't already enough.
I was determined to finish this study in a year (2013) but I didn't come close. Then in 2014 I didn't choose a "One Word" because I felt like I didn't deserve to because I hadn't finished studying the first word. Crazy, huh?
I became determined to finish the enough study this year but I'm even rethinking that idea. Yes, I have a plan to visit the roles that I haven't blogged about yet. But I'm realizing several ideas. First of all, I didn't necessarily fail by not finishing the series. Some of the roles were just not resolved enough in my head for me to write about them. Some still aren't and there's probably some "enough categories" that I'll add to the list. It's no longer a magic 12.
Another thing I decided with this series is that more stories need told. I know not feeling like you're enough is common for most people, especially women. So I decided, really at the last minute, to open my blog for guest posts. I've written guest posts for other people but never invited them for my blog because I didn't know how to handle it. After all, my blog is called Jamie's Thots, right?
I really feel like my fellow writers need to have a platform to share their ideas about "enough" and I want to provide that space. If you're interested in contributing, let me know! My only rules are that even if you disagree with my beliefs, you don't mock them in your article. I also require a headshot, a short bio, and a blog post that is 300 to 1,500 words with at least one picture.
I invite readers to read through the enough category. When I get the chance, I will go back and update the previous ones with the new graphic I created that will accompany all new entries into the enough category.
Thank you for joining us on this journey!
Related Posts via Categories