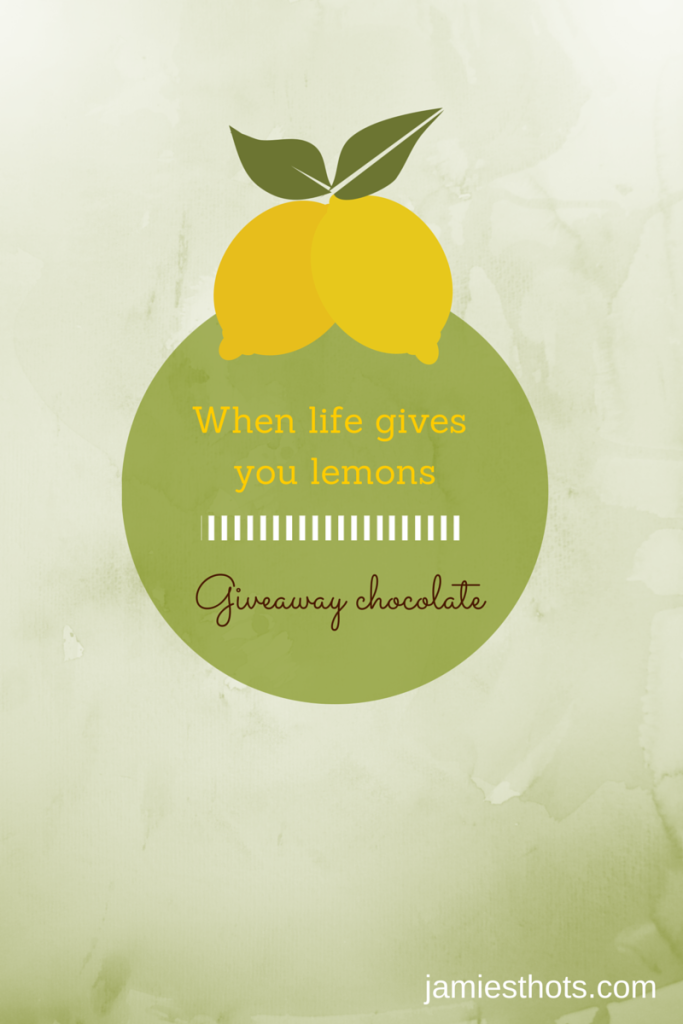 I'm not a big fan of lemonade and there are times I swear chocolate can fix anything.
So that's my angle for sharing this blog today. You may have noticed that I've been writing blogs in the last few days that you've read before. You're not dreaming and you're not going crazy (or at least this isn't a symptom of it if you are).
Truth be told, the last couple months have been bizarrely rough.
Since mid-October, I've had to replace my phone, my laptop and my desktop. All so I can do my job so I couldn't exactly wait until a "good time." I also had to purchase a tablet to help get me through all the extra waiting involved with the above-mentioned purchases.
Then I got horribly sick as we were coming home from Thanksgiving. I was out of commission (to the point of not being able to leave the house except for the three doctor visits) for almost three weeks. I could barely work yet managed to still get client work done.
In the middle of all that, I had a pretty big technical problem. A misunderstanding with the person I was hosting my two websites with led to my hosting account being shut down completely before I was done transferring my sites to a new account. I lost both my Jamie's Notebook website/email and this blog. To add insult to injury, it turned out that my backups I thought I was doing were not correct.
I was too sick to try and figure out how to get the sites back yet I kept trying. I finally got someone to help me who knows what he's doing and so this site is back up and the other one is hopefully coming soon.
When I lost this blog, I lost every post that I had written since early October including several I had been paid to write. I had to contact each company and figure out what needed rewritten, etc. I've redone about five blogs, which is why you're seeing what appear to you to be repeats.
As you can imagine, with being sick, redoing work I've already done, and generally wasting time trying to fix everything myself, I've lost a lot of traffic on this blog (pageviews is how professional bloggers are able to measure success when seeking paid opportunities).
I've also lost valuable work time where I could have been earning a living. The drama continued yesterday when my laptop got vicious malware on it despite me having multiple levels of protection. Yeah, I know.
So here's where this blog entry comes in. I first of all wanted to explain what's been going on and why you're seeing repeat posts. I also need to rebuild some of my traffic on this blog and I need your help!
I'm a firm believer in finding the good in all situations so I'm going to take the proverbial lemons life has thrown at me and turn it into something yummy. Instead of lemonade (would be kinda hard to mail that), I'm giving away chocolate! A pound of See's chocolate candies, to be exact.
I'm using the Rafflecopter setup below and you can earn points by sharing my blog, liking my blog's Facebook page, or commenting on blogs. Some of the options are ones you can do every day to earn more points. This giveaway  will probably close on Dec. 31 to give you plenty of time. Rafflecopter will randomly choose a winner and by earning more points, you are giving yourself more chances to win.
So visit my blogs and if there's some you like, please share them or comment!
a Rafflecopter giveaway
A few have asked which ones I had to rewrite and so here's that list:
Related Posts via Categories