In some ways, September 21, 2008, feels incredibly recent and in other ways, it feels like a lifetime ago. Since my husband and I vowed on that day to spend the rest of our lives together "in sickness and in health, for richer or for poorer," a lot of life has happened. I think everyone says that, don't they?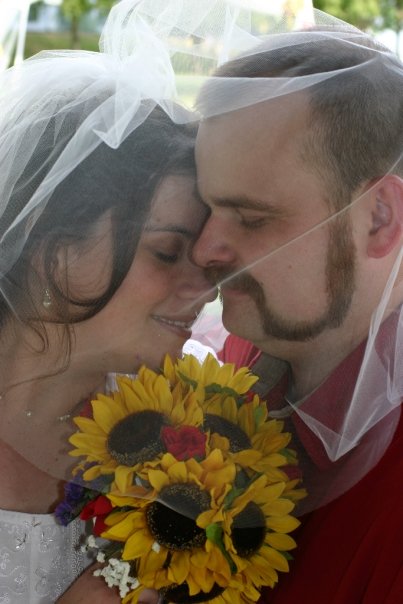 About six months ago, we celebrated our 10-year wedding anniversary with a much-anticipated trip to San Antonio, Texas. It was our first "just for fun" trip in all the years we've been together, including our dating years. Sure, we've been on plenty of trips but each had a specific purpose such as family and friends to visit, conferences to attend, or a specific event to attend.
Our San Antonio trip was the first long trip where we set our own plans, made all our own decisions, and simply got to enjoy each other's company. I can't recommend this practice enough!
As you can see, this blog is talking about a trip that was many months ago and I'm just now bringing it to Sunflowers & Thorns even though I did daily updates on Instagram under the hashtag #SanAnTENio. Remember that sickness and health, richer or poorer? Since our trip, John and I have both been pretty darn busy with work, each being sick multiple times, and just … life.
After debating the best way to share our journey, I decided on doing one long blog with picture galleries in carousel style. That way I'm not clogging up my blog with a bunch of entries on the same subject, but the single long blog will be easier to digest.
Here we go! I hope you enjoy!
The journey south
We left Northwest Arkansas September 15 and headed to our first night's stay in Richardson, Texas. I have health issues if I'm in the car for longer than 5 hours so we experimented by making the 9 to 10 hour drive in two days.
The Wingate by Wyndham Richardson/Dallas was a delightful hotel with an excellent staff. The only issue I had was the beds were too high, especially considering it was the handicapped accessible room.
We are Rewards members so we were greeted with a little gift bag of water and snacks, which was a lot of fun! I love swag! That night, we didn't want to get out again so we ordered in pizza. We discovered i Fratelli pizza and loved it!
We stopped in Richardson, Texas as our half-way point. We ordered in food so we didn't have to get back in our car, LOL.
The next morning, we continued on the rest of our trip and experienced numerous delays. Somehow, we managed to get delayed or caught in a torrential rainstorm every time we hit one of the major towns headed south on I-35.
We finally arrived at our home away from home for a week, which was the Super 8 by Wyndham San Antonio/Alamodome.
The hotel was pretty decent and had the eclectic Super 8 odd decor, which cracks me up! I had to take pictures of our view, which on one side was a beautiful landscape. Then you look down and to the left and you're looking into a stranger's backyard (the people who lived there waved at John several times during the trip).
We went to the local grocery store (my first time to an HEB so it warranted a picture) to get supplies then came back to the hotel and ordered in food. We chose a local Chinese place and I thought it was less than stellar but not bad.
We enjoyed checking out what would be our home for the next week and getting supplies for our room.
Monday, September 17: The day of the boots
Checking out one of the local malls!
Our first full day in San Antonio was focused on two things: getting the lay of the land and buying John some boots. He's needed new boots for a while and decided it sounded like fun to buy cowboy boots in Texas!
We went to North Star Mall for two reasons. First, well, we wanted to buy boots. But also, this mall has the world's largest cowboy boots set outside of it. Many people take pictures in front of them, but there was no wheelchair accessible way to reach them so we settled for a picture from across the parking lot.
Here's the funny thing. At the mall with the giant boots, there were no boot stores. None. I found women's fashion boots but not cowboy boots for John. So, after visiting a local tea shop in the mall and the food court for a snack, we headed to good old Cavenders across the street. Got good boots and a belt.
It turns out that specific mall was not really our style but it was definitely fun to tour. Lots of high-end stores! I also loved the palm trees all around because I've only seen palm trees maybe 3-4 times in my entire life. There were also displays throughout the mall that were displays of scenes created entirely out of canned goods. It was some sort of contest and I think that at the end the canned food was donated.
Tuesday, September 18: John's Birthday
John's birthday was that Tuesday so he got his pick of what we did and where we went. He chose well! As you can see, this day warranted two photo galleries.
Photos from the Natural Bridge Wildlife Ranch. Two tips: Go early if it's going to get hot out, and switch drivers between trips through the safari so everyone has a chance to really look at the animals.
The first part of our day was heading a bit north to the Natural Bridge Wildlife Ranch, which is a drive-thru safari of mostly Asian and African animals. Most of the animals were of the deer/antelope/cattle/bison variety. They also had a great giraffe reserve and one area where you had to walk through that had monkeys in cages. There was also a petting zoo.
We chose this attraction over the better-known San Antonio Zoo and Sea World San Antonio because it seemed less stressful, different than what most others do, and cheaper. It turned out to be one of our favorite adventures the entire week. You are allowed to drive through as many times as you want and they give you feed to toss out the window to the animals.
We had so much fun! If we didn't get low on gas and hungry, we would have stayed longer than three hours. The animals were interesting and we were glad we paid for the printed guide. It was an informational and fun keepsake.
We then headed off to an early dinner at the place John chose called Earl Abel's. He had been craving real fried chicken and somehow none of the places we looked at so far had it until this place. The decor was fun, the staff was funny, and the food was great! We sat on the patio and enjoyed the unique decor, sunshine, and time together.
We loved Earl Abel's restaurant! Great food and a fun atmosphere. When we go back to San Antonio, I hope we visit here again.
Wednesday, September 19: The Alamo and more!
Confession: I thought The Alamo was going to be just one of those places that you kinda have to go see when in San Antonio because it's a tradition. I also figured it would be nearly impossible and not fun for me to navigate considering it's a historic building.
I was so wrong. This was one of my top favorite places we visited. The guides were fantastic and I highly recommend getting the self-guided audio tour. There was only one spot where I had access issues and the entire staff already had a plan for people in that situation.
I want to go back and do the tour again to see what new details I can pick up. The gift shop was interesting but, like most tourist shops, way overpriced. We got a few things that were unique and went on our way after several hours of touring.
Remember The Alamo! We enjoyed this famous tourist spot. So much history and we loved how all the guides were so knowledgeable and helpful.
The Alamo is in the downtown area of San Antonio, which is also near the famous River Walk and many restaurants. We got our first taste of paying $15-$20 for parking and to walk quite a bit to locations that are deemed "close by. "
After The Alamo, we went to a sushi bar called Sushi Zushi and it had one of the biggest selections I've ever seen! We both tried something new to us and even got an appetizer.
After lunch, we walked to The River Walk and walked it as much as we could. There were some access issues for wheelchairs but I was impressed that every staff member knew exactly where we needed to go to access different points and gave clear directions. Again, they were prepared and never treated me or John as a bother. We were their guests and treated as such.
The walk around downtown San Antonio is fun in of itself with the artwork, the cool shops and hotels, and the eateries. We did learn there is a distinct difference between being located on the River Walk and at the River Walk!
We walked around the downtown area and saw great artwork, visited River Walk, and enjoyed delicious food.
We ended the day with a trip to Jack in the Box at my request because I couldn't remember the one time I had ever tried their food. Only choice the whole trip that I regretted! Gross, gross, gross.
Thursday: September 20: A day in
Thursday was our day to veg out in the hotel. We ordered in Mexican food and watched free cable all day.
We're the type of travelers who actually enjoy spending a fair amount of time in our hotel. Comfy beds, delivery service from local restaurants, and free cable TV are perks we don't have at home. It's also smart for my health to not push it too far. That's why the day before was our only day to do two attractions!
Anyways, we got engrossed in a TV show marathon that went on for about 8 hours and at some point ordered in Tex-Mex. Yes, we were in San Antonio and ate Tex-Mex in our hotel room not the restaurant. I can't for the life of me remember where we ordered from because we ordered from a couple different places through one of those delivery services. We had to cancel our first order because they didn't have what was listed on their menu.
The food was OK but not my favorite. John liked it much more than I did! I did get to try the famous San Antonio puffy tacos, though, and look forward to having them again.
The day was great to just hang out and spend time together with no one but the delivery guy to talk to. So relaxing!
Friday, September 21: Our big day
It finally arrived. September 21, 2018 was ten years since we said "I do."
We enjoyed the morning in the hotel and then set out to better explore the mall that was attached to the parking garage we had been using every time we went downtown.
The Shops at Rivercenter was much more our style compared to the first mall we visited. The shops were a fun mix of places we recognized and many local and regional shops that were new to us.
We had a lot of fun looking at tourist-type gift shops where we were able to get souvenirs for at least half the price we would have paid in gift shops at the various attractions. Also, it was just nice to have some casual hang-out time together towards the end of our trip.
Some of my favorite souvenirs from the trip and displays at stores we saw in the mall.
The next part of our trip is what we had scheduled for months. John found a steak restaurant located across the street from The Alamo and it was famous for its food, views, and service. We went there for our anniversary dinner and it was such a special night that I don't think I'll ever forget.
1718 Steakhouse was amazing! Every single thing we ordered was top-notch and we loved our waiter. And, of course, the view of the Alamo was gorgeous! We made our reservation at 5 p.m. so we would beat the big dinner crowd and get a good view.
At this place, the entrees are served ala carte and you are encouraged to order sides to share. We ended with an amazing cheesecake dessert that they served flambe right at our table. We shared the 22oz Cowboy steak, shrimp, Brussel sprouts and a large loaded baked potato to share.
We loved this restaurant but agree that given the prices, it's definitely a "once every few years for big special occasions kind of place."
Once we finished eating, we walked around the Alamo square and investigated a few more shops before heading back to our car. Lots of fun horse-drawn carriages!
Saturday, September 22: the journey home
The last day of our vacation was the trip home. We decided to see if we (meaning I) could tolerate doing the drive all in one day and figured it would be not too hard to get a room somewhere if we realized we needed to stop.
We ended up splitting the drive between us as drivers but we did it all in one day. We learned our lesson on the way down and didn't go through Dallas this time. The detour cost us a bit of time, but it was worth it!
We arrived back in Elkins late Saturday night and got our car unpacked enough and went to bed. We picked up all four pets from boarding at Dogwatch Doggie Daycare (they also have a cat room). They seemed glad to see us but also acted like they had fun!
Six months later
It's been six months since our trip and somehow I find it interesting that I'm typing this less than a week from the 12-year anniversary of our first date. Not sure why I even notice that, but I do.
The last six months have been hard, but good. I think that has really defined our entire life together. It wouldn't be real life though if it wasn't hard, right? I can't speak for John, but I think the hard parts have made me appreciate the good parts even more.
I have no idea how much time we have left together but I'm so grateful that it will be just that, together.
Related Posts via Categories