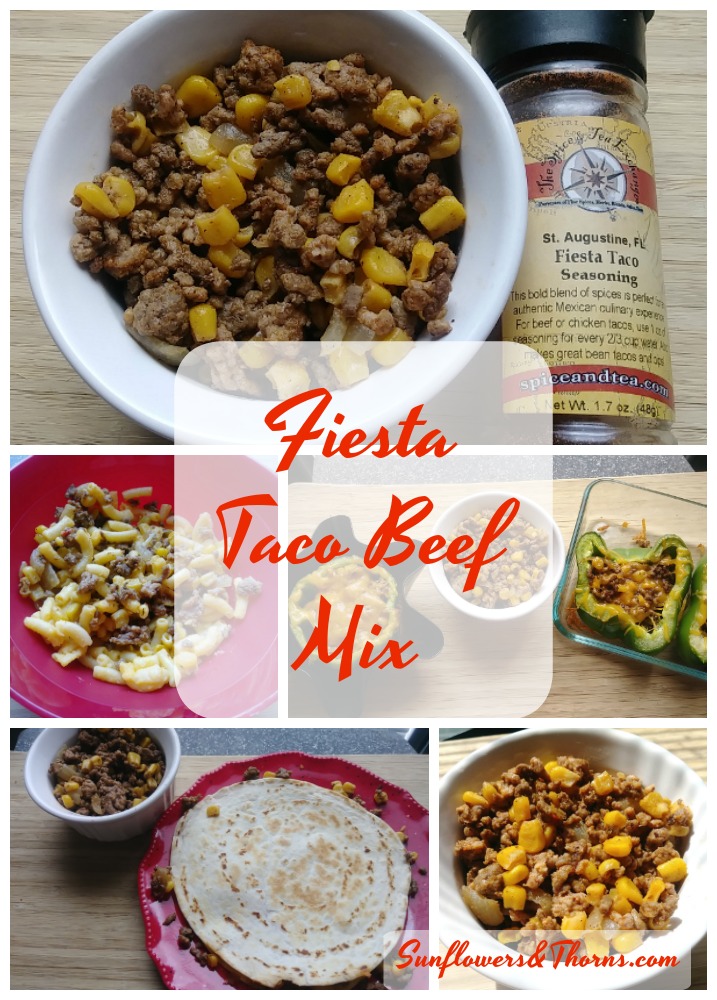 When we were in San Antonio, we "discovered" the Spice & Tea Exchange. I put that in quotations because we both knew of the store and even lived a few blocks from one early in our marriage. But this was our first time to actually visit a store.
We are always on the lookout for new rubs, spices and flavorings, especially if they are reduced sodium versions. We often make our own blends to reduce the salt. John found the Fiesta Taco Seasoning and we decided to try it.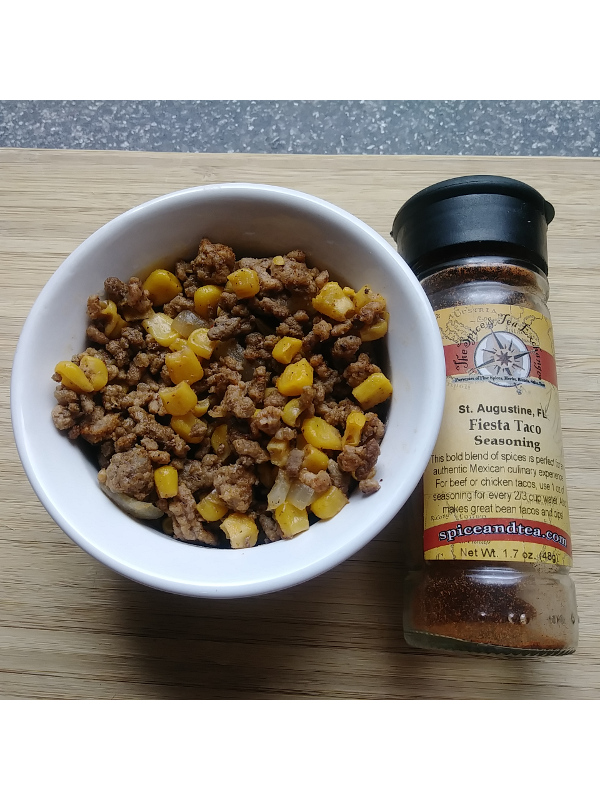 When we got it home, we searched online to know how much to use. The only directions were a tablespoon for every 2/3 cup of water. That made no sense to us at all because it didn't translate to how much seasoning for the amount of meat. We searched online and found one vague reference and adjusted the recommendation to fit our taste.
We hit the jackpot! We use 1 tablespoon for every 1 pound of ground beef. For frame of reference, we tend to use one of those taco flavor packs for every two pounds of beef, which is double the amount of meat recommended on the packet instructions. We tried using two tablespoons of the Fiesta Taco Seasoning for one pound of beef and it was so strong it burned our tongues.
We've tried this seasoning on its own to make taco meat and recently decided to "beef up" (yes, I went there) the recipe to create a mix that can be consumed on its own but also as a filler for tacos, quesadillas, casserole, and stuffed peppers. I'm sure there's more, but that's all we've tried so far!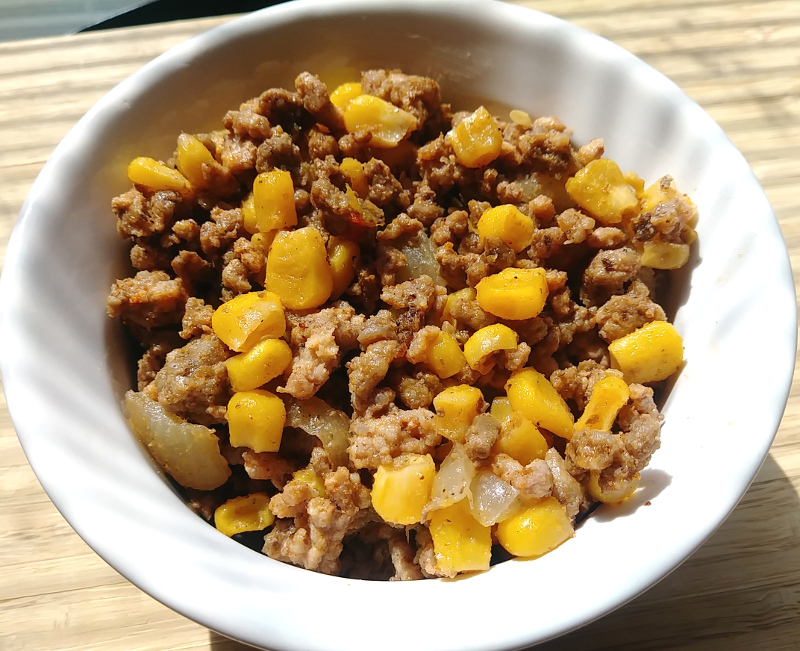 Ingredients
1 pound of lean ground beef (I prefer 80/20)
1/2 diced yellow onion
1 Tablespoon Fiesta Taco Seasoning from Spice & Tea Exchange
1 10oz can of Mexicorn
1 Tablespoon olive oil
Instructions
Dice the half onion
Pour olive oil in skillet and heat to medium
Saute the onion for a couple of minutes
Add the ground beef and stir up the beef and onion
Cook the beef/onion blend until nearly browned
Add the seasoning so that it can start mixing with the meat using the grease*
Finish cooking the beef until browned
Drain the beef grease carefully
Add the drained Mexicorn and mix well
Serve with whichever dish you want.
*If you prefer, you can wait until the beef is browned and drain the grease before adding the seasoning with however much water you usually use for this method.
This recipe made about five cups of mix.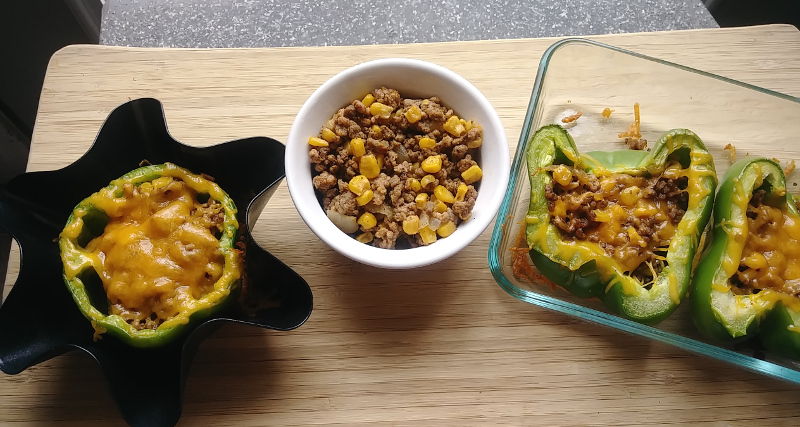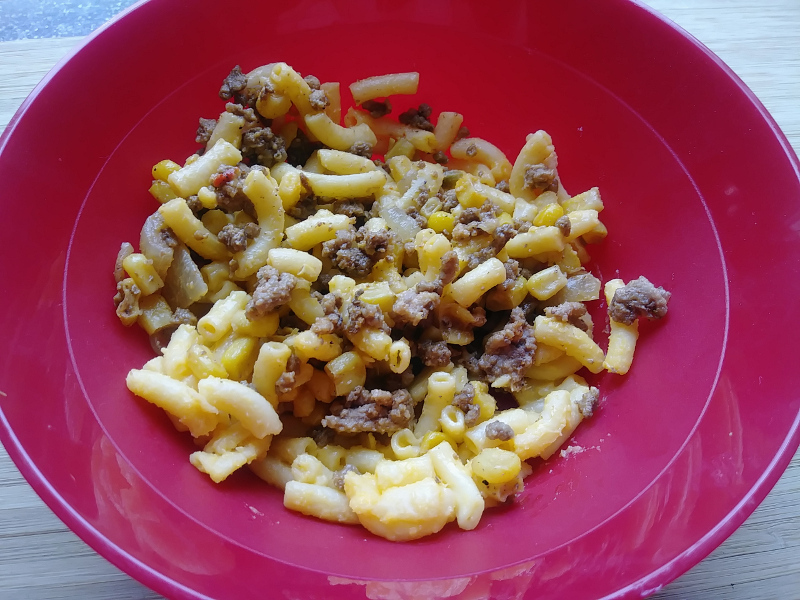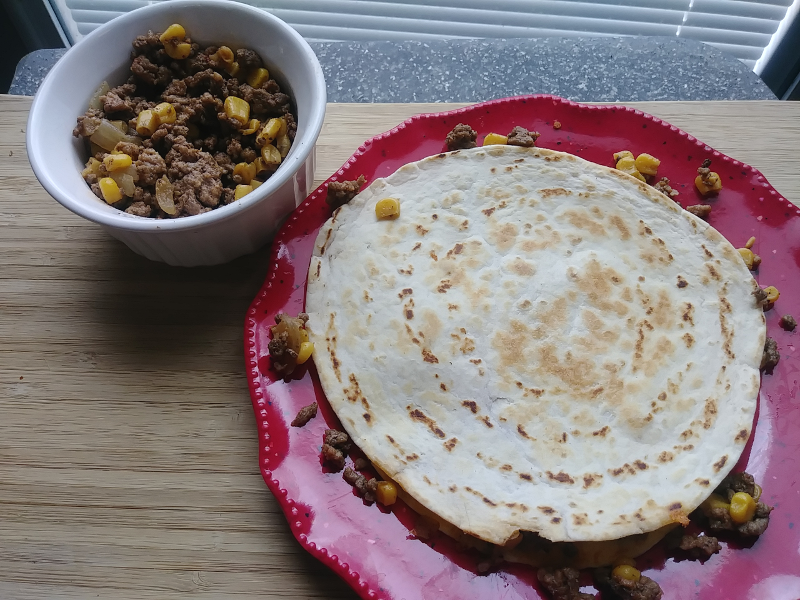 Related Posts via Categories