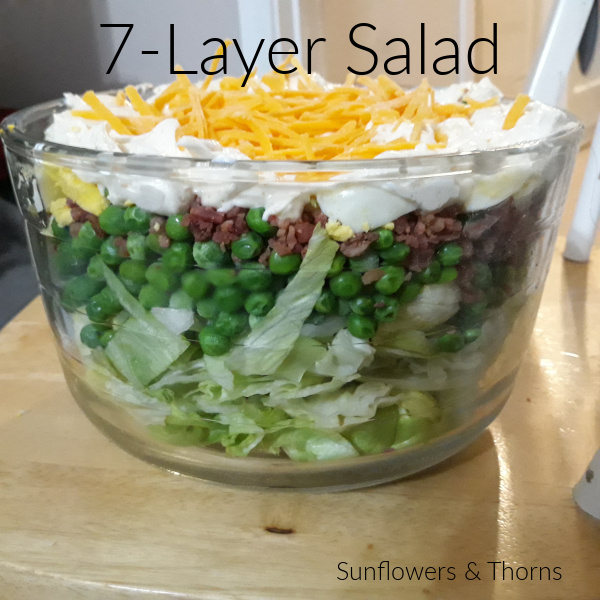 Now, hear me out on this one.
For as long as I can remember, my family has had 7-Layer Salad every Christmas. I've tried to like it, I really have. But I just can't get behind it. So when my then-boyfriend, now-husband, John came to my side of the family's for the first time for Christmas, I tried to prepare him for what I considered a monstrosity.
He loved it. I mean, really loved it. He got multiple servings and later asked me to get the recipe so we could make it at home. We now make it all year long and I still hate but he seems to love it more each time.
Like all recipes I post here, if it's someone else's recipe I made modifications to make it my own version. That's what I'm finally getting around to putting on my blog now! If you want to print, just copy/paste the next two sections into a document and print.
Ingredients for 7-Layer Salad
My mom's version has different portions and proportions. We make ours to be more protein rich and vitamin rich for everyday eating. I am also adding measurements for when you are doing a full-sized, normal recipe for a small group.
Half a head of iceberg lettuce, chopped (use the whole thing if you're doing a full-size recipe)
1 small or 1/2 large yellow or Vidalia onion, chopped (whole onion for full-sized)
2-3 stalks of celery, chopped (3-4 if you are doing full-size)
2-3 hard boiled eggs, broken up (3-4 if you are doing a full-size recipe)
1 2.5 oz bag of reduced sodium real bacon bits (2 bags for full-sized or the equivalent of real bacon that you cook ahead of time)
1 10 oz bag of frozen peas (16 oz for full-sized salad)
1 to 1 1/2 cups of mayo (2 cups for full-sized)
1 tablespoon of brown sugar (2 tablespoons for full-sized)
Shredded yellow cheese to taste (same. My mom always put this on at the end. John puts it on each serving).
Instructions for 7-Layer Salad (especially note the last one
Set out the frozen peas on the counter so they start thawing.
Start water boiling on the stove.
Chop the lettuce and place it in the bottom of a tall see-through bowl like in the picture (we often use a trifle dish). Trust me, you want people to be able to see all the layers.
By this time, the water should be ready to boil the eggs. Let them boil until done. They will just be chopped so if you leave them in a tad too long and they are ugly, that's OK.
Chop the celery and onion and place them in a fairly even layer on top of the lettuce. I usually do the onion first then the celery but they kind of blend together.
Carefully remove the boiled eggs from the shell and chop them. Place them evenly over celery/onion.
Pour the bag of frozen peas evenly over the eggs.
Pour the bacon bits over the peas (they will look blended together).
Combine the brown sugar with the mayor in a measuring cup.
Carefully spoon the mayo/sugar mixture over the salad.
Before serving, add the cheese (yes, I know this is technically an 8th layer to the 7-layer salad.
NOW for the important step….Instruct EVERYONE in the group that to eat the salad. They have to scoop all the way down and pull up to get a piece of every single layer. From experience when I've taken this to a potluck, people will get just a bite of the top layer or two. Remember, that's sugar and mayo! You will NOT be the life of the potluck. Just trust me.
I'm curious how you like this recipe! Let me know in the comments, including any modifications you make.
Related Posts via Categories