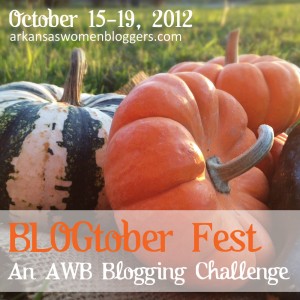 For Thursday's Arkansas Women Bloggers Blogtoberfest post, we're supposed to promote an old blog post of ours. Considering it's all about fall this week, I'm assuming it's best to promote a previous fall-related post.
My problem is like my usual problem, I can't just pick one. It's not that I think I have so many great blogs, it's that I like certain things about each one and can't decide on the "best." I hyperlinked them in the text so click on the underlined words in each description.
So, I'm going to share several that make me think of fall or they talk about seasons or whatever.
This is me and Colby the weekend I brought him home.

Four years later, one of Colby's favorite perches continues to be my shoulder. He's grown in case you didn't notice!

I wrote this first blog right after Halloween about four years ago. It was that day that I brought home a little orange pumpkin-colored kitty that we would name Colby. His "got day" is Oct. 31, very fitting!
 This next blog is nothing special, I just really like the photos in it. This is from November 2008 and shows some of the pretty color!

These roses loomed early in the spring, giving us the first splash of color in months.

This is a blog I wrote a couple of weeks ago about being in a season of renewal. Not really fall related, but still one I wanted to share.

This tree is half turned at the point I took this picture in Bentonville.

This final blog is from another blog challenge I'm doing right now. It talks about what a Simple Joy it is to start to see hints of color each autumn.