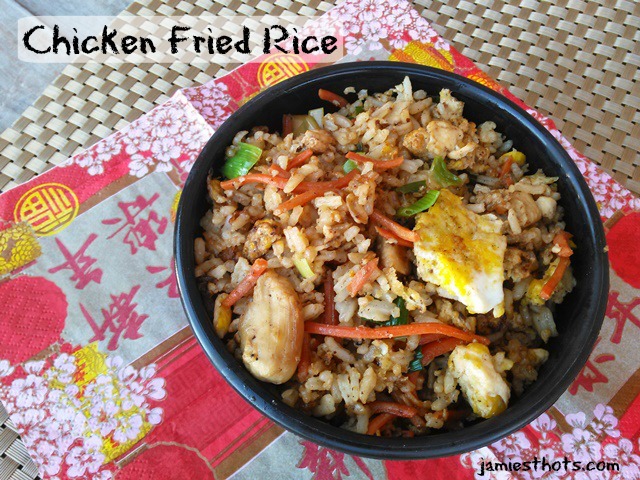 Remember a couple of weeks ago when I did the sponsored post that included a moo shu pork recipe? We realized we were on a bit of a Chinese food cooking kick and I thought I'd share this recipe just in time for Chinese New Year.
We initially set out to make House Fried Rice, which usually has what we thought was pork or beef, chicken and shrimp. Most recipes we found had something called Chinese sausage in it and we had no idea what that was. Besides being befuddled with that ingredient, we also realized our first fried rice adventure should probably be a bit tame.
What we came up with was tamer, but still incredibly delicious. Just like my moo shu chicken, this chicken fried rice recipe was heavy on the protein compared to what we usually get in restaurants. We loved it! 
Chicken Fried Rice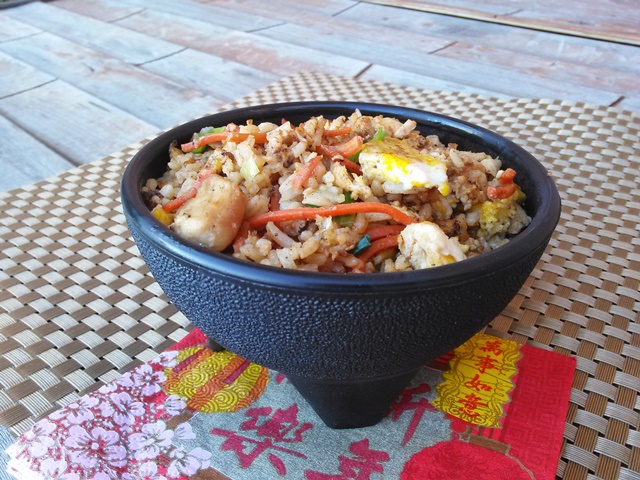 Here's the recipe (as always I put the recipe together and pictures at the end).
Please note: This makes a lot of food. I believe you could easily half this recipe and it would be a sufficient meal for a small family. We made this version based on how much chicken we had. We also thought this recipe tasted fine reheated.
Ingredients
2 pounds of chicken, cut into bite-sized pieces
1/4 cup dried minced onion
3 tsp garlic powder
2 TBS rice bran oil (vegetable oil will work fine)
2 tsp sesame oil (in the Asian cooking section)
1/2 cup low-sodium chicken broth
1 1/2 cup water
1 cup uncooked long grain white rice (will make about 3 cups when cooked. Brown rice will make about 4 cups)
6-8 large eggs, scrambled
6-7 stalks green onions, chopped
1 cup of shredded carrots
3-4 TBS low-sodium soy sauce
Instructions
Put the chicken broth, water and rice in a 2 qt pan. Bring it to a rapid boil then cover and simmer for about 15 minutes until the liquid is absorbed. Do not vent the rice as it steams. Also, unlike spaghetti, you don't bring the liquid to a boil then add the rice. Start it all at the same time.
Heat 2 TBS of rice bran/vegetable oil in a large skillet.
Toss the chicken in the sesame oil and cook  the chunks of chicken in the cooking oil until cooked through (see step four).
When the chicken is almost cooked, add the minced onion and garlic powder. Stir frequently so it doesn't burn to the bottom of the skillet.
When the chicken is cooked through, set it aside.
Scramble the eggs in the skillet (I break all the eggs in a bowl while cooking the chicken and pour the eggs in together so they cook evenly).
Stir in the chicken, rice, green onion and carrots.
Add the lite soy sauce and stir until the mix is coated.
Cook until heated through.
Serve with additional soy sauce available as each person's taste will vary.
Process in pictures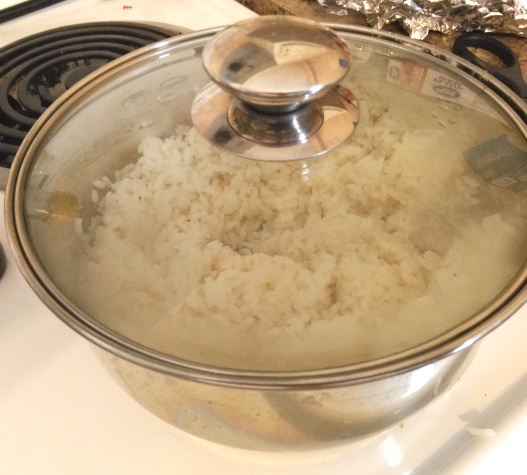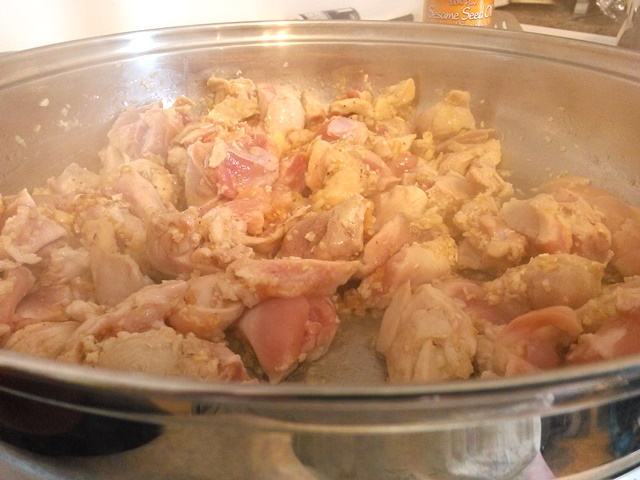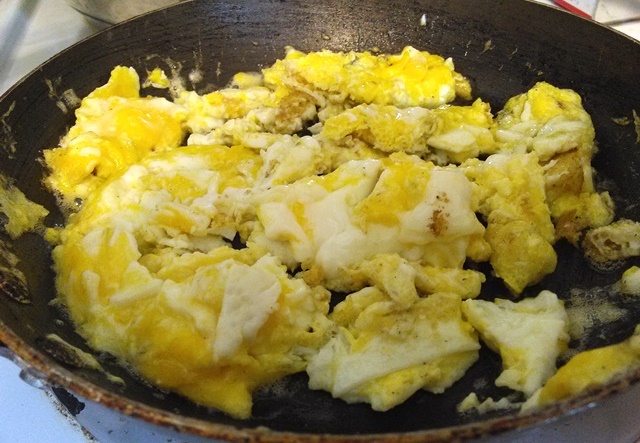 ---
---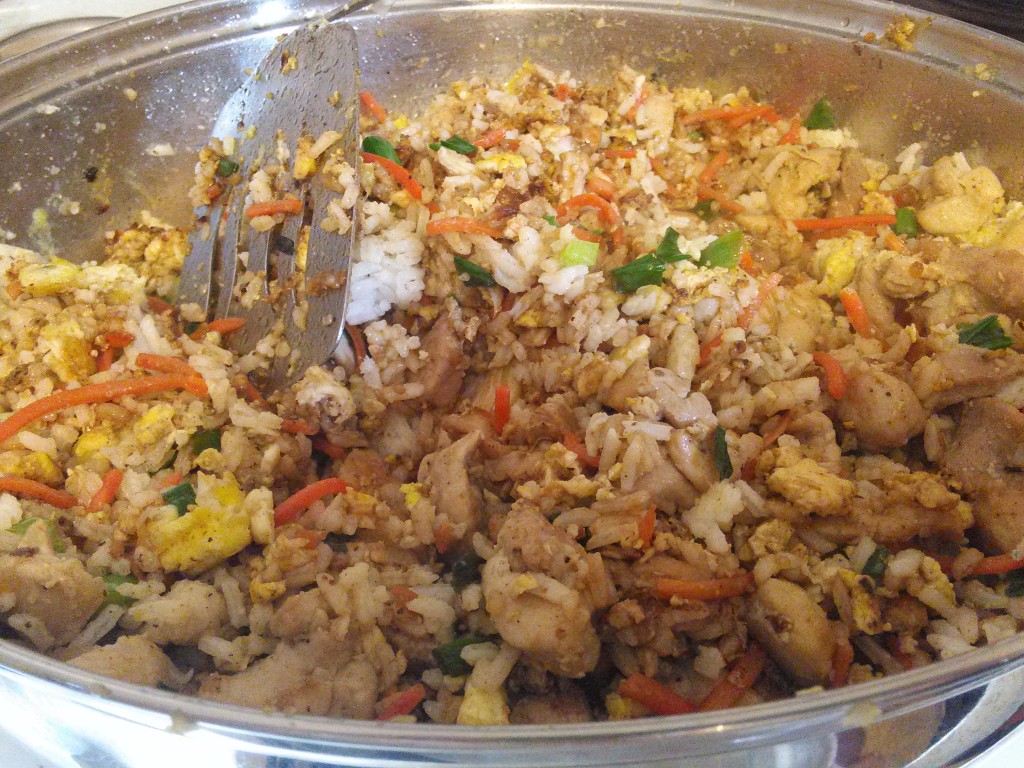 Yum!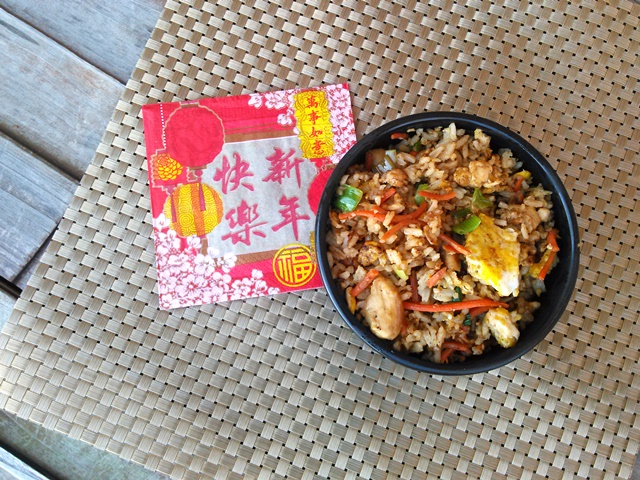 Related Posts via Categories