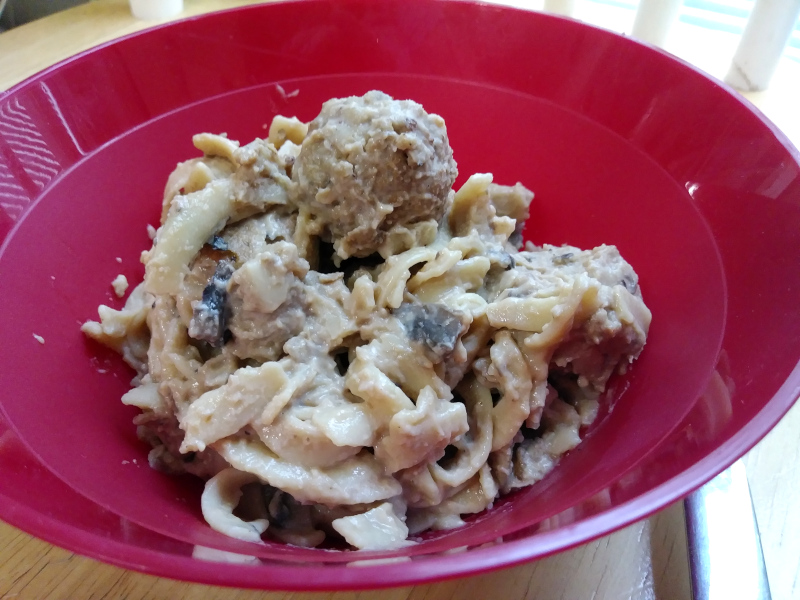 It seems like the last time we made this Swedish meatballs recipe was an age ago, but now that it's truly getting colder I imagine we will be making it again soon! As you may remember, we try to make things as low sodium as possible so we took a couple of different recipes and adapted them. Your experience with this recipe may be a bit different and feel free to leave a comment on the adjustments you made!
Ingredients
1 pound frozen country or homestyle meatballs
12 ounces of pasta (egg noodles are traditional)
Heaping 1/4 cup of all-purpose flour
3 pinches of onion powder
1 Tablespoon butter
8 ounces of sliced fresh mushrooms
1 Tablespoon A-1 Sauce
1 cup sour cream
1/3 cup milk
1 can low sodium beef broth or stock
Optional: low sodium chicken stock
Instructions
In a skillet, melt the butter
Saute the mushrooms for a few minutes
Add the flour
Add the milk and stir
Allow the mixture to simmer a couple of minutes
Pour the mixture into the crockpot
Add the onion powder, A-1 Sauce, broth, and meatballs.
Let cook through for several hours (about 3 on high)
Depending on your preferences, add about half a cup of the chicken broth (we didn't).
Add the sour cream when there are about 30 minutes left to cook.
While the mixture is cooking, cook the pasta according to directions in a separate pot.
Serve the meatballs either over the pasta or mix in the pasta and let cook for about 20 more minutes (We did the latter).
Related Posts via Categories