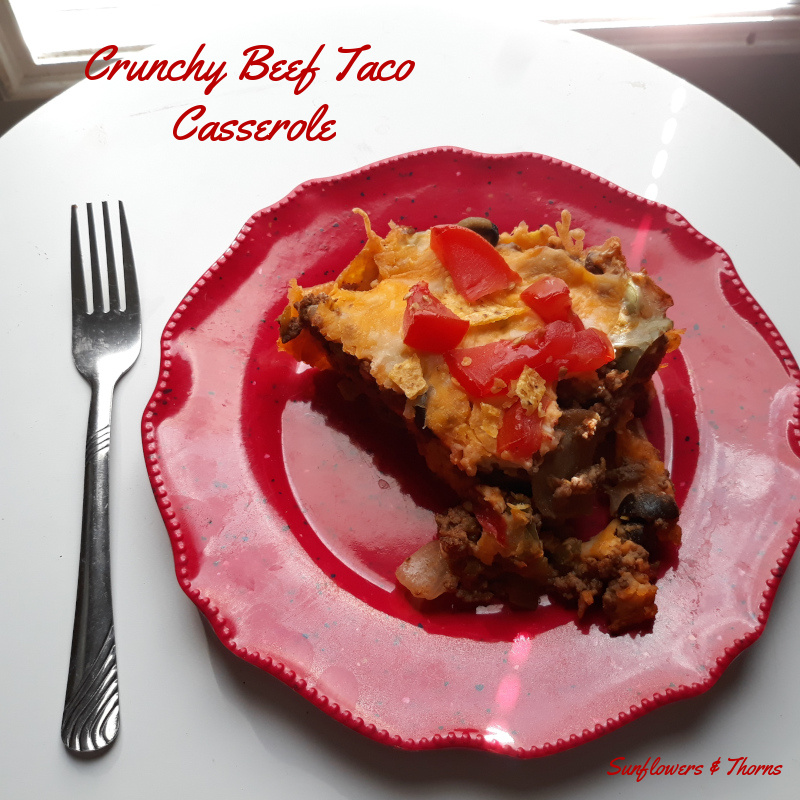 When my husband first mentioned that he wanted something similar to Crunchy Taco Hamburger Helper, I was stumped. This Crunchy Beef Taco Casserole is apparently not the same, but it ended up fitting the bill!
I scoured the internet and came up with two that sounded good and was surprised he chose the more simple version. But, I'm glad he did! I like to give credit to the recipes I change up so check out the original here on Food.com.
We decided to change 4 or 5 things about this recipe to serve our preferences and needs and it came out beyond amazing! We used a lot of reduced-sodium ingredients and it was so good it was gone in about two days (there's only two of us so that's fast!).
I couldn't figure out a name for this dish that was both clever and described it in a way that people would find it in a search so pardon the overly simple "Crunchy Beef Taco Casserole" moniker.
Enough of making you read my story and let's get to the recipe.
Ingredients for Crunchy Beef Taco Casserole
2 pounds of lean beef (we used the 2.25-pound packages from Walmart)
1 medium onion, chopped
4-5 cloves of garlic or minced equivalent (about a heaping tablespoon)
1 green bell pepper
Pinch of seasoning salt (easily left out)
2 pinches of black pepper
1 cup warm water
2 teaspoons dried red pepper flakes (the chili pepper stuff you put on pizza)
1 8-ounce (215 ml) taco sauce (we used Ortega)
2 4-ounce cans diced green chilies (or the equivalent)
2 4-ounce cans of sliced black olives (a third can is fine if you really like olives)
1 package of low sodium taco seasoning (we use Old El Paso)
4 cups of shredded triple cheddar cheese (divided into 2/2 we just bought two 2 cup packages)
1 bag of tortilla chips
1 large firm tomato
Sour cream for garnish
Shredded lettuce for garnish
Instructions for Crunchy Beef Taco Casserole
Set oven to 350 degrees (F)
Start the chopped onions cooking in the pan. Add the bell peppers and garlic.
Add the beef and the chili pepper flakes, black pepper, and seasoning salt.
Cook until the beef is browned.
Stir in the water, taco sauce, green chilies, both cans of the olives (if you got a third can keep that separate), and the taco seasoning.
Cook over low medium heat for 5-7 minutes.
Spray the bottom of a 13×9 glass dish with cooking spray
Line the pan with crushed chips (don't pulverize them. Think like the tiny pieces you get at the bottom of the bag)
Layer half of the meat mixture over the chips.
Layer 2 cups of the cheese evenly over the meat mixture.
Repeat the above steps (Crushed chips then meat then cheese).
Bake for about 20-25 minutes (we just did 20. If you do 25 you might want to wait to put the cheese on the last 10-15 minutes)
Once removed from the oven, sprinkle more crushed chips, the chopped tomato, and the third can of olives if you chose to get those.
Garnish with sour cream and lettuce.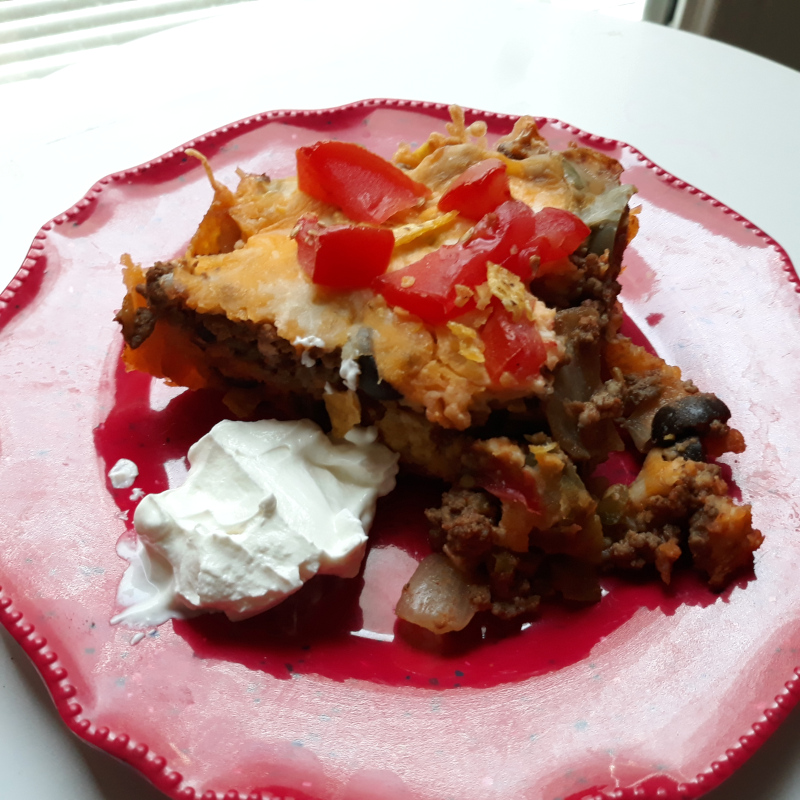 Related Posts via Categories