One of the first major, major crushes I had as a kid was on a Wichita State University basketball player. #45 Sasha Radunovich was just dreamy in my nine-year old mind. He was 6'10" and had a foreign accent. A nice, exotic Yugoslavian accent.
We had season tickets during that time and sat in the student section, which was available to us because my mom audited a couple classes. I remember the day I met Sasha. He was volunteering at a practice for the wheelchair track team I participated on. I was so nervous that he was there and while I was in a race, my mom went over and told him about me. Next thing I knew, he was cheering for me! I went over and talked to him and got his autograph. So what did I talk about when meeting my crush? I told him all about the students who had season tickets behind us at the games who snuck booze in their jackets and used "bad words." Yeah.
Anyways, the crush was a good thing because it led me to research European history, especially Yugoslavia. I wrote one of my first reports in elementary school on Yugoslavia. See, it was educational.
Family passion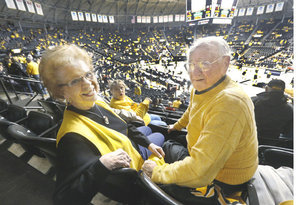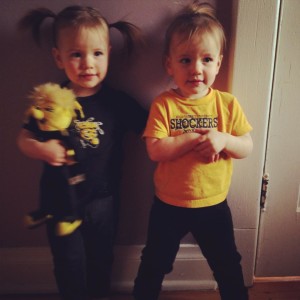 I swear loving the Shockers is a genetic thing. My grandmother and her husband were even featured in the Wichita Eagle for being long-time fans. My family all went to the games when I was young. My dad goes or watches whenever he can. I admit I haven't kept up with the Shockers in recent years, but I do pay attention when my Facebook feed fills with updates from a Shocker basketball game. I've never been much of a sports person, and I never attended Wichita State. But I think I'll always consider myself a "Shocker."
Final Four, baby!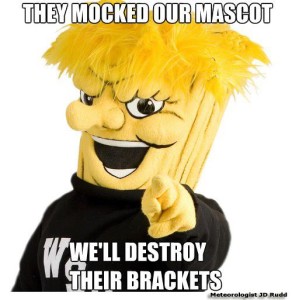 As I said, I don't watch the games anymore but I just might tune in this weekend when the Shockers make their way to the Final Four. I'm so amazed and proud of my hometown team, but I'm also just thrilled that a team that was somewhat of an underdog had the ability to shock (pun intended) the living daylights out of the entire country by advancing this far.
I can't wait to see that giant shock of wheat with a face (WuShock, the mascot) and his offspring (WeeShock) shine!
Go SHOX!
Related Posts via Categories