It's often said that women speak up to 25,000 words a day (or something like that). I write for a living and I talk a lot, so it should come to no surprise to anyone who knows me that this year, One Word was simply not enough.
That's why I'm choosing a slogan for my focus in 2018: Give. Them. Jamie. (you might see it as a hashtag #GiveThemJamie)
What is One Word?
For those unfamiliar with the practice, a growing trend is to choose One Word to focus on as a theme for the upcoming year. I prefer this practice over resolutions and even over setting specific goals. It gives direction without setting myself up for disappointment when life doesn't turn out just how I think it should go.
My previous words are:
Why this slogan, why now?
I believe God gives me these annual words through various forms including a method he often uses to speak to me, which is through other people. The phrase for 2018 came to me during a discussion with my friend Barry, who was encouraging me moments before my TEDx Dickson St. presentation in October. The concept, however, had been floating in my brain for the last year as I worked to overcome several hardships.
Everyone from my husband (especially him!) to friends to clients encouraged me to be my true self and to realize that I have the knowledge and skills already to do what God needs me to do. They've encouraged me to stop trying to constantly prove myself to people who will never truly value me (or at least not "get" me). They've encouraged me to see myself as God sees me and to share that with the world.
Give. Them. Jamie. 
So, with all that, let's talk about what Give. Them. Jamie. means, including what it doesn't mean. It doesn't mean that I'm this great thing. In fact, as I shared in my last blog, I'm so broken that it hurts.
That is where God's work can now begin. 
I had initially tried to find One Word that encapsulated the idea behind Give. Them. Jamie. but realized that one word wasn't enough. I asked a small group of friends for insight and all their suggestions were great because they each captured one part of what this theme means for me. But none of the words captured it all. So, I'm using all those words to describe this theme for 2018.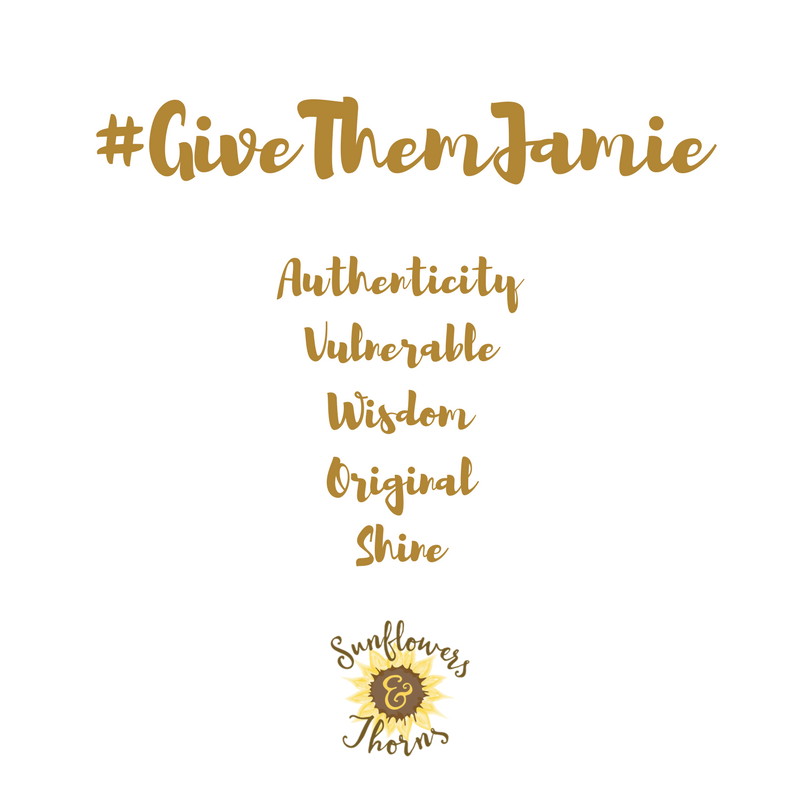 Authenticity-being the real me instead of shaping who I am to fit other people's expectations and needs. God made me and when I get out of his way, he continues to shape me. That should be my measure of true self, not how others perceive me and my constant urge to measure up. God will bring me my tribe!
Vulnerable-realizing that it's OK to share struggle in the midst of it all. I usually don't mind sharing once I've come through something (see last blog!), but I need to realize that sometimes, it's not only OK but it's good to share throughout the process. Letting people see what God is doing in my life (or when I've failed to let him and am recovering from that lesson) is a way I can help others.
Wisdom-a big part of having authenticity and vulnerability is also wisdom. It would be easy to think that these first two words mean there should be no filter, no growth. That's not true at all. Part of this journey is having the wisdom to establish healthy boundaries. This includes boundaries for what I share but, more importantly, boundaries for how I allow myself to be treated-including how I treat myself.
Original-more than being my true self, I want to be original. I will obviously continue to glean from others and learn new things. In fact, I plan on stepping that up this year! But "giving them Jamie" means I will share my own thoughts. References to others' work is fine, but I must also give my own take, my own experience. I may have less experience than people who are older than me, but that doesn't invalidate my experience. I am done regurgitating what others have said and am now focused on developing my own God-given brand of leadership, relationships and faith.
Shine-one thing that almost prevented me from choosing my theme is that I was worried it sounded egotistical or self-serving. Here's the thing, though. Give. Them. Jamie. isn't about me. It's about shining the inner light that GOD has already given me, but more importantly, letting his light shine through all my broken places.
Well, that's my story. Are you focusing on a theme word for the year? Share in the comments (including blog links if you wish). Or, what do you think of my theme?
Related Posts via Categories