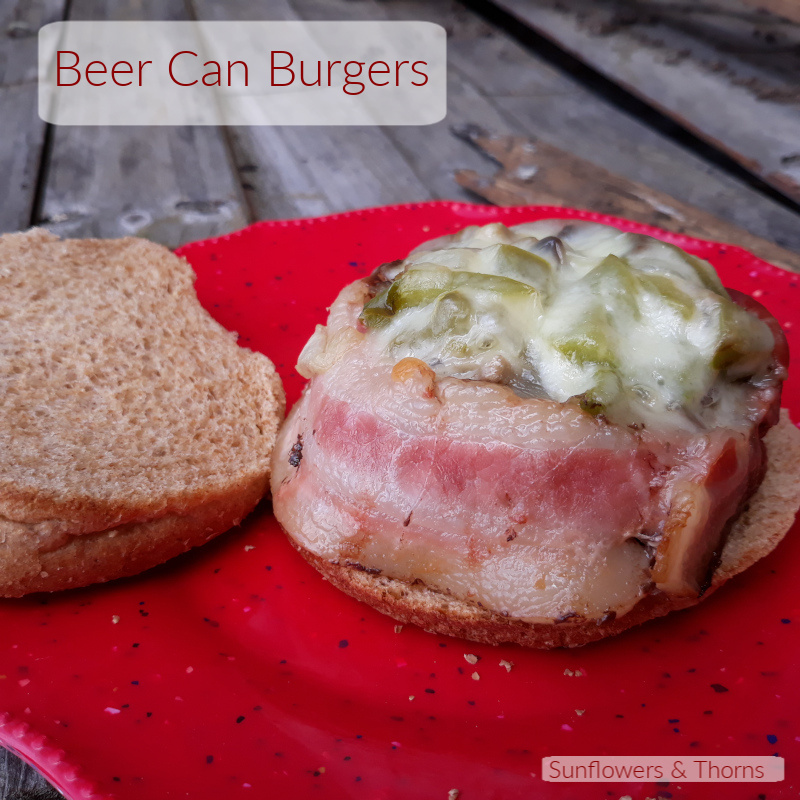 I don't know many who don't love a good burger, especially during the summer holidays. Just the right ratio of meat, veggies, cheese, and bun. The recipe we adapted this weekend just might become our new favorite and the method will likely replace our long-time favorite cheddar pepper burgers.
I first learned the concept of beer can burgers from this post on Facebook and showed it to my husband. We decided to adapt it for Memorial Day weekend and were so enthralled that we are planning many more versions!
Here's basically what we did different from the original:
Ours are baked, not grilled
We added seasoning to the beef
Took out the jalapenos
Used specific cheese to complement the specific veggies
I know people get tired of scrolling to get to the recipe so I'm going to get right to it and share more pictures after the written details.
This makes about 6 burgers
Ingredients for beer can burgers
2 pounds (at least) of lean ground beef (we get the 2.25 package from Walmart usually)
6-8 slices of thick cut bacon (one for each burger)
10-12 slices of pepper jack cheese (I used 1.5 slices per burger).
1 tsp ground black pepper
2 tsp ground garlic
2 small green peppers (or one large one), diced
1/2 large yellow onion, diced
4 ounces of mushrooms, diced
1 tablespoon of olive oil
Kitchen utensils needed
1 can of beer/soda (liquid will not be included in the recipe)
Medium to large bowl
Large baking sheet
Aluminum foil
Spoons or other instruments to help stir or shape the meat (we used our hands)
Medium skillet
Instructions for beer can burgers
Preheat oven to 350 degrees.
Dice the vegetables and saute them in the olive oil.
While the vegetables are cooking, mix the black pepper and garlic powder with the meat in the bowl.
Line the baking sheet with aluminum foil so that there are no large gaps.
Create large patties and line them up on the covered baking sheet. The thicker the better, but within reason.
Wrap each pattie with a slice of bacon. The ends should be able to meet.
Use the beer (or soda) can to create a symmetrical imprint into each hamburger patty (See picture below).
Place a piece of cheese in each burger patty (I had large slices so I did half a slice for this part).
Fill the imprint/hole with the veggie mix. It's OK if it overflows.
Cover the veggies and patty with a slice of cheese. I found it easier to split the slice and do criss-cross layers (see picture below).
Bake the burgers for about 35-40 minutes. 35 minutes made them about medium-well.
Serve with your favorite bun or as a single entree. We didn't think it required any additional sauce or veggies.
Recipe in pictures
Saute the veggies in olive oil. They will cook down.

Use a beer or soda can to create an imprint or hole in the patties.

Bacon adds flavor and helps "shore up" the patties.

Top with cheese and bake in the oven.

The finished product is great on a bun or just eat it with a fork.

What are you waiting for?
Possible alternations
The original recipe on Facebook said to grill for an hour on 300.
You can use any assortment of veggies and cheese including:

Pepperjack with green peppers/onions (we also did mushrooms)
Provolone or Swiss with mushrooms and onions
American or Cheddar with BBQ sauce, onions, and green pepper or jalapeno.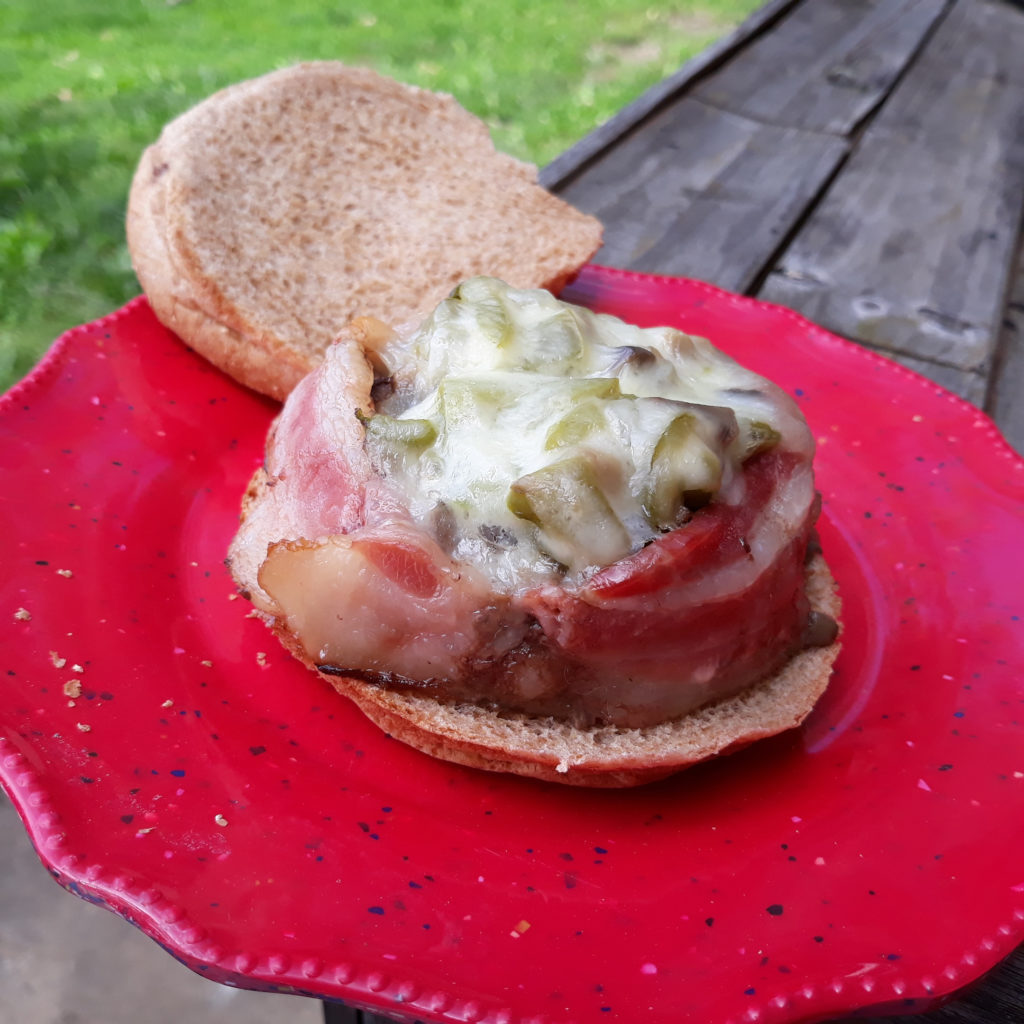 Related Posts via Categories