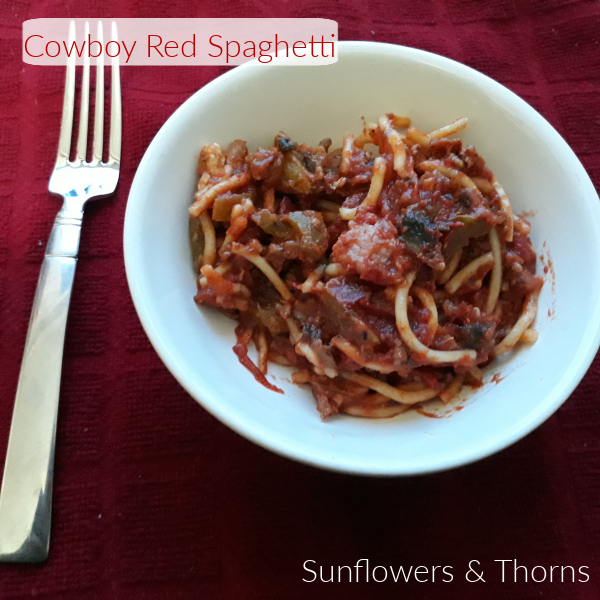 It's almost a joke at my house how much I love spaghetti. In some ways, I like any spaghetti but in other ways, I'm a spaghetti snob. I've gotten to where I prefer to make a big pot of my own spaghetti and freeze meal-size portions of it instead of eating those frozen individual meals. They just aren't up to snuff and to be honest, their nutrition facts are a bit gross.
Anyone who has read this blog or follows me on social media knows my husband and I enjoy finding new ways to make food we enjoy or how to combine foods to make new dishes that are a bit healthier (OK, at least lower sodium). Well, a few months ago we adapted a bacon recipe to make our own version of Cowboy Spaghetti and it's delicious! I'm finally getting around to getting it on the blog just in time for you to enjoy it this fall.
Ingredients for Cowboy Red Spaghetti
3/4 pound of spaghetti pasta (or to your preference)
1 pound of lean ground beef (we prefer 80/20)
8-10 slices of thick-cut bacon (we prefer on the high end, especially if you're a nibbler like I am)
1 yellow onion, chopped
2 chopped green peppers
3-4 minced garlic cloves (or equivalent. I use 4.)
8 ounces of sliced fresh mushrooms
1 can of no salt added/reduced-sodium diced tomatoes (don't drain)*
2 small cans of no salt added tomato sauce*
2 teaspoons of hot pepper sauce (we used Tabasco or Crystal's, I think. Some may want to add more to individual servings).
1/4 teaspoon of black pepper
1/4 teaspoon dried thyme
1/4 teaspoon dried rosemary
1/4 teaspoon dried oregano
1/2 teaspoon dried basil
Instructions for making Cowboy Red Spaghetti
I recommend using the largest skillet you have otherwise you might need to do the final steps in a different dish. We use our 16-inch skillet.
Cook the bacon in a skillet until it's cooked but not crispy. Set aside and only drain half the fat. Set aside the bacon.
Brown the hamburger meat halfway in the bacon grease and drain most of the fat from both.
Add the mushrooms, garlic, peppers, and onion in with the hamburger and continue to cook until the hamburger is done and the veggies are cooked pretty well. Drain all the fat carefully.
While you're doing the above, bring a pot of water to a boil. Cook the spaghetti and drain when it's done.
Add the tomatoes, tomato sauce, hot sauce, and the bacon to the hamburger/veggie mixture.
Add the pepper, thyme, oregano, basil, and rosemary. I usually blend all these spices in a small bowl first then add them at the same time.
Stir all the ingredients together until blended well.
If there's room, add the cooked spaghetti so it's one-pot spaghetti. If not, you can serve it in the traditional way with spaghetti covered by sauce.
*Note: You can leave out the red sauce and add a second can of tomatoes, giving you a more traditional cowboy spaghetti that looks like this: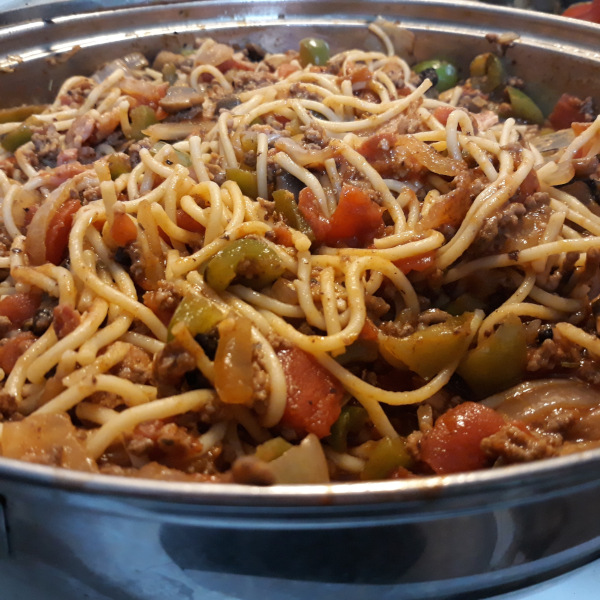 Let me know if you make this delicious dish and how it comes out!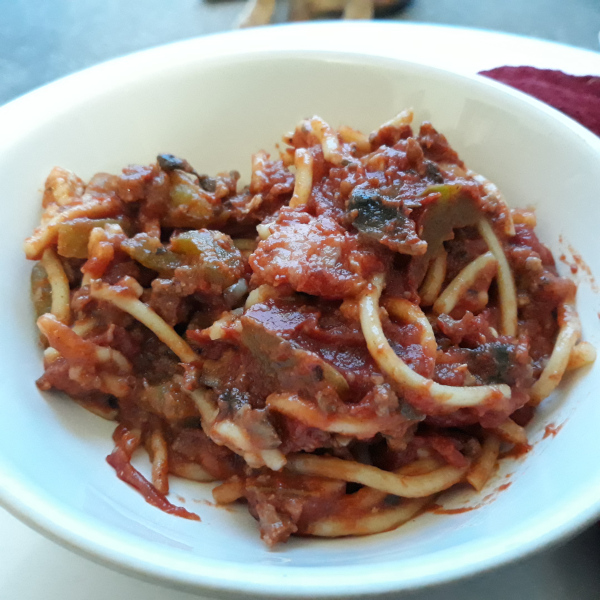 Related Posts via Categories